Editor's Note: When this article was originally written, Farrell Pacheco was preparing for his third Santa Fe Indian Market. Those preparations continue, except now for a virtual platform. Both Farrell and his mentor Martine Lovato will participate in the Virtual Indian Market, launching on August 1st at swaia.org and lasting the entire month of August.
For months, Farrell Pacheco worked on the necklace only when his family left him alone in their Kewa (Santo Domingo) Pueblo jewelry studio. He huddled near the woodstove, brow bent to the work, headphones blasting opera music. Under the tutelage of his wife's uncle, acclaimed jeweler Martine Lovato, Farrell had already learned the basics of making inlaid mosaics, hand-crafting stone beads, and stringing heshi strands. He'd helped in the booth that the family won every year at SWAIA's Santa Fe Indian Market. And with his wife, Rey, he'd traveled to craft shows throughout the region selling his and her works.
But this time? He had something grand in mind. A multi-strand jacla showpiece with turquoise from the Castle Dome and Sleeping Beauty mines, animal bones inlaid with stone designs, and a breathtaking array of spiny oyster shell points at the necklace's bottom, fanning out like the tail of an eagle in flight. "I was working on that piece from January to July," he says. "Every time one of them would come into the workshop, I would hide it."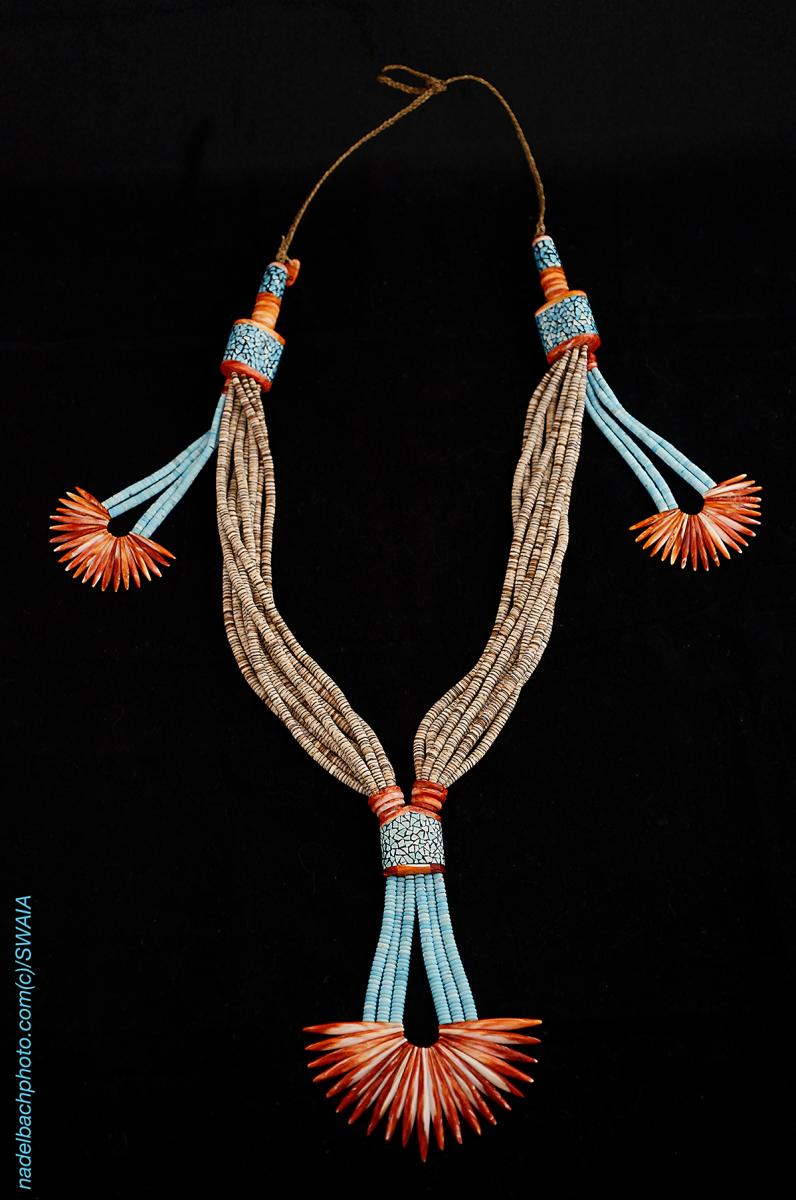 He doubted himself every time he compared his work to that of Martine's. "When you put on a pair of Martine's earrings," Rey says, "it's like you're wearing a Gucci bag. He's at that craftsmanship level." Finally, Farrell braved the opinion of his "sensei," he jokes of the elder. The uncle, who lives with the Pachecos and their two young daughters, suggested adding a few more details to the top of the necklace, then looked Farrell square in the face. "It was like I graduated in his eyes," Farrell says.
A journey had begun. The next step? Attending an outreach session held by SWAIA officials to help new artists learn how to apply for a booth. The program began several years ago with goals of embracing talents that had long felt shut out by earlier rules and ensuring that Indian Market visitors experienced fresh jewelry, weavings, pottery, paintings, photography, and more. Farrell attended the session, applied to the Indian Market, juried in and figured that market weekend with his family would be a lot of fun. What he didn't expect was to take home a blue ribbon for Best of Show in the jewelry classification—a high award for any jeweler, much less one in his rookie at-bat.
"The entire weekend," Rey says, "people were in awe of the piece and that it was his first-time entry to SWAIA."
"He was the first in his village to win that kind of ribbon," Martine adds.
You can imagine the cinematic potential of the scene. Each August, Native makers from throughout North America fill the Santa Fe Plaza and its side streets with booths bursting with the finest traditional crafts and innovative twists that delight an estimated 120,000 visitors a year. From quiet mornings as artists set up, enjoy breakfast burritos, and chat with longtime collectors, to the meat of the day, when every square inch seems filled with shoppers, dancers, musicians, and food trucks, the event serves as a marker among the artists: If you can make it at Santa Fe Indian Market, you can make it anywhere.
And there on Palace Avenue, Martine, Rey, and Farrell basked in an after-glow that has not only lingered but fueled all three to even finer work.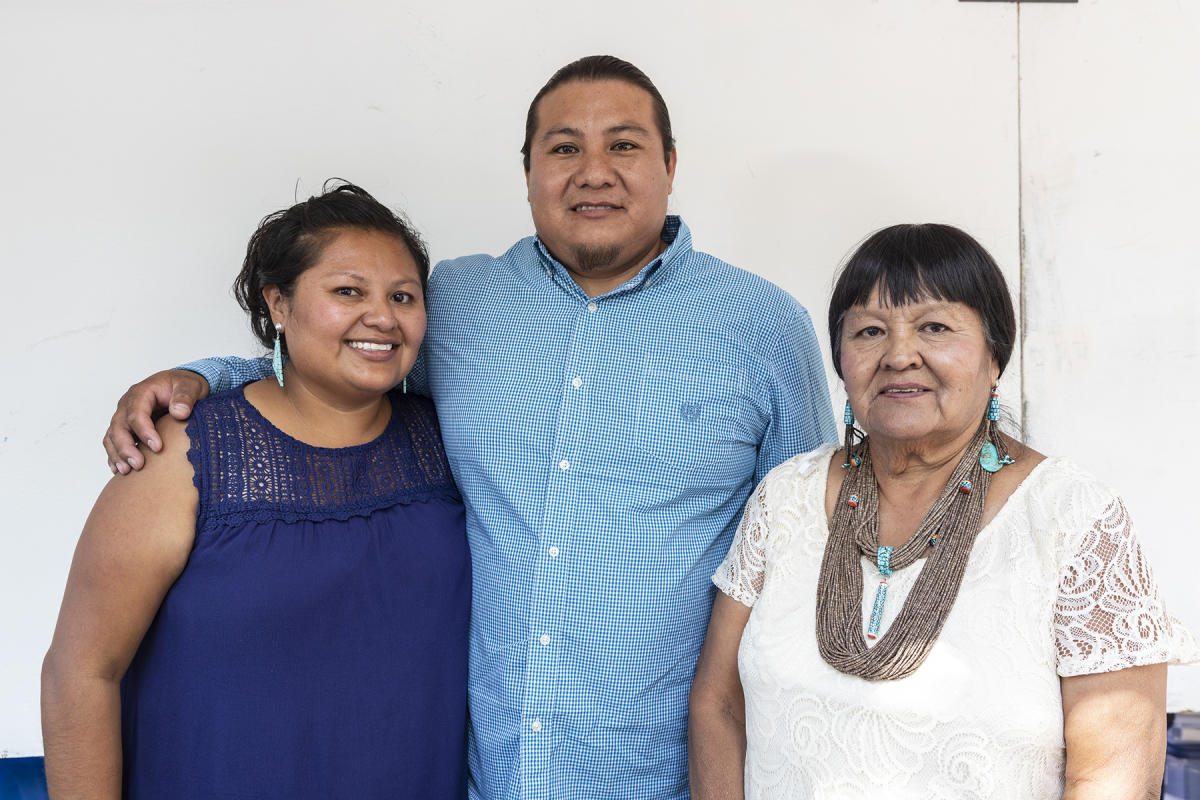 (Though the event will move online, it will still be a juried show, in which every artist has gone through a vetting process to ensure quality and authenticity.)
"We plan for it all year long," Rey says. "Before we start our day, before we get on the heavy machines, we pray to the ancestors who did the jewelry before us: Come into my body, give me the passion to produce the work. We ask the ancestors to bless it, to put it on, and wear it when they participate in the spirit world."
Farrell's award-winning necklace drew a few tempting offers at the 2018 market, but today, it hangs in his daughters' bedroom, waiting to adorn them during their pueblo's traditional ceremonies. Other pieces are already in the works for this year's customers, a few of whom have become something more. "That's the thing about market," Rey says. "You get good friends and good buyers, and sometimes, they're the same person."