Close enough to Santa Fe and Albuquerque for an easy getaway, the village of Pecos invites you to slow down, reach new heights, and connect with something deeper. 
This gateway to one of the state's most beautiful wilderness areas offers year-round accommodations, rich history and culture dating back thousands of years, and exciting challenges for hikers, mountain bikers, anglers, and birders of every skill level. 
Kimberly Allen, co-owner of Pecos River Cabins, suggests making Pecos National Historical Park your first stop before venturing into the 223,000-acre Pecos Wilderness.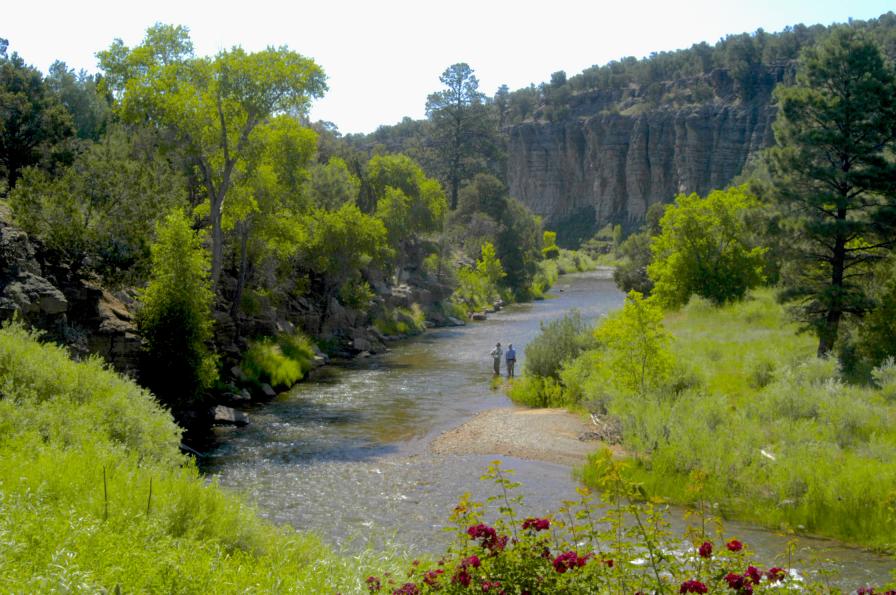 The newly renovated visitor center and museum interprets the region's important history and archaeological record as a crossroads and meeting place for hunters and gatherers, Puebloans, Spanish settlers, traders, explorers, ranchers, and travelers. Behind the center, the 1.25-mile Ancestral Sites Trail winds through the remains of the Pecos Pueblo, where you can descend into a replica kiva and walk through the eroded wall of the 1717 Spanish mission church. (Pick up an informative trail guide before you go, or time your visit for a ranger-led tour.)
Further afield at the park, imagine the life of an 1800s settler at the historic Kozlowski Trading Post, once a vital stop for weary travelers along the Santa Fe Trail. The Forked Lightning Ranch House, formerly owned by actress Greer Garson, infuses mid-20th-century glamour into its natural setting and is home to the 3.8-mile South Pasture Loop Trail. Then visit the nearby Battle of Glorieta Pass site, which features its own interpretive trail. Often called the Gettysburg of the West, the 1862 battle marked an important Civil War turning point. 
"But what Pecos really offers is the opportunity to create a more reflective time," says Allen, whose two rustic seasonal cabins and four modern year-round cabins set the tone for a relaxing getaway, making for a soothing home base after a day spent outdoors. "Whether plein-air painting, journaling in nature, or exploring the history and culture, visiting Pecos is a chance to regroup, retreat, relax, rejuvenate, think, and become more resilient when you go back to daily life." 
Our Lady of Guadalupe Abbey adds another option for this kind of peaceful experience, welcoming individuals and groups for retreats on its 1,000-acre property with access to the Pecos River and Monastery Lake. Pecos Canyon State Park, the state's newest addition to its parks system, attracts campers, hikers, and anglers for its high-elevation camping and world-class trout fishing (with or without a local guide) along the pristine Pecos River and its tributaries. If you find feeding fish more interesting than catching them, Lisboa Springs Fish Hatchery allows visitors to see firsthand the life cycle of trout. Kids and adults love to toss morsels into the gaping mouths of eager trout.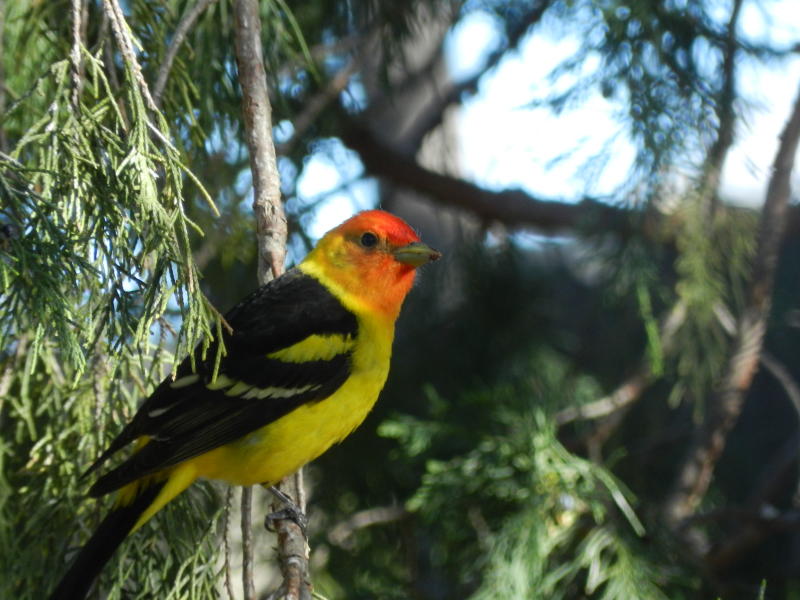 Bird-watchers flock to Pecos, where four distinct life zones (piñon and juniper, mixed coniferous and ponderosa pine, subalpine, and alpine terrain up to 11,000 feet) create a seasonal and permanent home for hundreds of species, including Mountain Bluebirds, Steller's Jays,  Bald  Eagles, Cooper's Hawks, and migratory Western Tanagers, Great Blue Herons and Mallards.
The agricultural heritage of this area is on full display from May through October at the Pecos Farmers' Market, where vendors sell local, often organic produce and you'll find a variety of arts, crafts, and musical entertainment. In early October, local artists throw their studio doors open for the Pecos Studio Tour, for a weekend of demonstrations and conversations. Winter offers easy access to prime holiday tree-cutting on well-maintained forest roads. 
Hungry outdoor enthusiasts have several options. Breakfast burritos from Pancho's Gourmet to Go fuel early risers, while Frankie's at the Casanova provides a more leisurely menu of traditional New Mexico favorites until mid-afternoon. Casa de Herrera welcomes all visitors      for lunch and dinner, with a side display of nostalgic photographs of Pecos's early days. 
"Pecos fulfills an essential need for human beings to reconnect with nature," Allen says. "To look at the night sky, watch the full moon rise, and see mallards and great herons floating on the Pecos River really rejuvenates visitors."