As superintendent of operations for the Cumbres & Toltec Scenic Railroad, Marvin Casias coordinates and oversees repairs to engines, cars, and tracks, and ensures that his crew has what they need to get the job done—from Chama, New Mexico, to Antonito, Colorado.
I've been with the railroad since 1978, and the history of it keeps me around. I started here as a summer job during college. I used to run the buses between stations, then I was a mechanic. I worked in the locomotive shop, then became a fireman shoveling coal, then an engineer. 
My favorite part of this job is that it never gets boring. Every day is different. I like the ride from Antonito going west to Chama. You start in the wide-open low prairie where you can see for miles, then head up into the mountains and back down again. You get a lot of variety in the geography and can see how the mountains formed. It doesn't matter the season. In fact, if I had to choose a favorite time of year to ride, it would be right after a snowfall. It's so peaceful then.
The beauty of the ride is that you go through undeveloped areas. There's no cell phone service so no one can get a hold of you. It gives you time to look at the scenery and not be bothered. If you're lucky, you'll see lots of wildlife, too. If you come in late summer, the wildflowers will be in bloom. And if you don't like what you see now, wait a few minutes, it'll change!
Sometimes I'll be a conductor on a trip. I get to meet people and answer questions about whatever they want to know about the train and how it works. They sometimes tell you about riding trains with their parents—those are the stories you like to listen to. Some people are afraid to come up to us and ask, because they don't want to bother us when we're working. But we all like to show off and talk about our "big toy." 
The nicest question ever was from a young person who asked, "How does it work?" Kids aren't afraid to ask! It's funny because kids will show up with electronic gadgets and phones, but they put them away. They are fascinated, and their parents and other kids and adults will gather around to listen. That makes me feel like I've accomplished something—reminding them about the past. 
The communities of Chama and Antonito are small, but you feel proud and a big thrill when you see a little piece of some movie or TV show that they filmed here.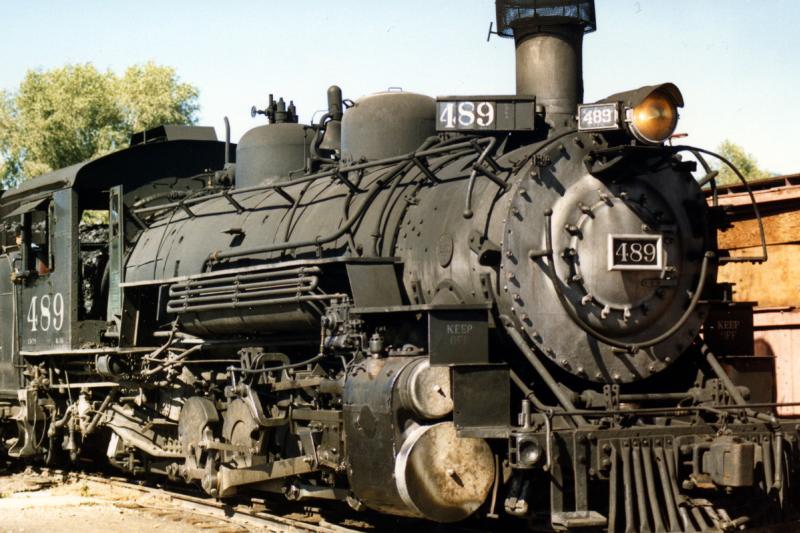 My grandfather worked on the original line before it shut down in the late 1960s. He would show me the section houses where he would stay for a week at a time working. I took my sons on the train with me when they were small, and now I do it with my grandkids. 
I raised my sons to have respect and love for the railroad and this area and what the train means to it—jobs, tourism, and a respect for history and traditions. My oldest son, Max, is an engineer and also works in the shop. My other son, Antonio, works with the tracks department. One of the great things about the job is that I see my boys. We're all a big family at the railroad. I couldn't ask for anything better.