FAMILY FUN ATTRACTIONS IN THE ALBUQUERQUE AREA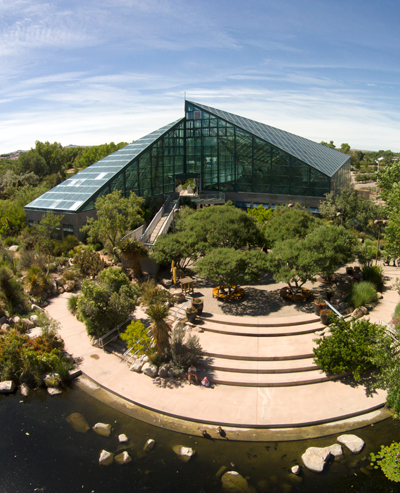 Tinkertown Museum - Open 10am to 4pm on Fridays, Saturdays, Sundays and Mondays, Open every day during Balloon Festival. Admission: Adults: $6.00, Children 4-17: $3.00. "Fantastic, funky Tinkertown Museum is an enchanted assortment of miniature, animated Western scenes. The gift shop alone is worth the visit." - Sunset Magazine. Call (505) 281-5233 for more information.
Albuquerque BioPark - The Albuquerque BioPark consists of the Albuquerque Aquarium, Rio Grande Botanic Garden, Rio Grande Zoo and Tingley Beach. The BioPark is a great place for kids. Marvel at animals from all over the world at the zoo, learn how the waters of the Rio Grande change from Albuquerque to the Gulf of Mexico at the aquarium, and kids will love the 10,000 square foot glass conservatory housing native and exotic plants at the Botanic Garden. Call 505-768-2000 for more information on hours and admission.
National Museum of Nuclear Science and History - Open daily 9:00am - 5:00pm. Admission: Adults (18-59) $17.00, Seniors (60+) $15.00, Veterans/Active Military $10.00, Youth (6-17): $15.00, and children under 5 are free. The nation's only congressionally chartered museum in its field, and an intriguing place to learn the story of the Atomic Age, from early research of nuclear development through today's peaceful uses of nuclear technology.
Anderson-Abruzzo International Balloon Museum - Admission: Adults $6.00 ($5.00 for NM Residents with valid ID) ages 65+ $4.00, ages 6-17 $3.00, ages 5 and under are free. The museum tells the history of ballooning, from the first flight in France in 1783, with a rooster, sheep, and duck as passengers, to the use of balloons in military, science, and aerospace research. Call (505) 822-1111 for more information.
Explora - Open daily 10am-5pm. Admission: adults $11.00, children (1-11) $7.00, students, active military and seniors (65+) $8.00. "I can't say enough about how awesome this place is. It isn't just a science center or a museum... it is a fun house! The kids cheer when I tell them we may return. From the visitor-controlled water fountain art to the living room-sized elevator, we love it!" – Yahoo Reviews. Call (505) 224-8300 for more information.
New Mexico Museum of Natural History - Open 9am-5pm Wednesday through Monday. The Museum's permanent exhibit halls illustrate a "journey through time", covering the birth of the Universe (≈13.6 billion years ago) to the Ice Age (≈10000 years ago). Call (505) 841-2800 for more information on admissions.
White Sands National Monument - Located outside of Alamogordo, about 1.5 hours south of Albuquerque, the White Sands National Monument is open to the public but be sure to check the park closures page ahead of your trip. The park admission fee ranges from $15.00 to $25 per person over 16 (15 and under are free). Guided sunset strolls and full moon hikes and biking are available for an additional fee.
Pumpkin Patches and Harvest Fairs - Fall is a great time of year to explore New Mexico with your family, especially if you're looking for traditional autumn fun. From maize mazes to pony rides, your family will love the seasonal pumpkin patches around the state. Check out New Mexico True Partner Heirloom Acres or one of the other patches or fairs across the state!
More Information
Please visit these website for more information