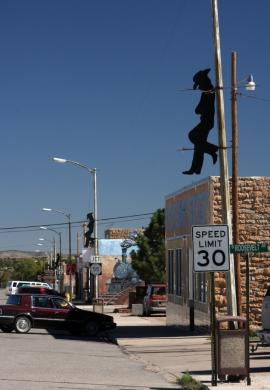 You will find in our tiny town with one main street the real small town feeling that was once the backbone of life in America. People will look you in the eye when they say hello. They will ask about you and then listen to your answer. They will let you know some of the best secrets and share a few stories when you ask them what is special about Mountainair.
We want you to visit the Salinas Pueblos Missions National Monument and see the history of this area. But we also want to share with you what it is like to live in a small town. Whether you are planning a day trip or can stay a night or two in a hotel or your RV, we want you to slow down with us and enjoy your experience. As you walk down our main street you will find the work of many resident artists on walls, buildings, and in galleries. There is even an art walk guide if you would like the official tour. Our newest mural is Sor Maria de Agreda, also known as the Blue Nun or Lady in Blue.
There is an old fashioned ice-cream fountain filled with all kinds of unique creations that will remind you of your childhood sipping from straws and twirling on the red stools in front of the bar.
You will see trains going by and hear their whistle blow as they travel back and forth through our town. In summer there are rodeo's and our Annual Sunflower Festival in August. We've got mountains for you to explore and climb, ancient sites for you to travel back in time to, and a bigger sky than you will find almost anywhere - and that came from a Montana native!
You will see cowboys walking past you in their working clothes as you enter our hardware store that is packed with antiques, history, and a whole host of animals that now stand to greet you - don't worry, you are perfectly safe. The only live critter is the snake and he isn't allowed to wander the aisles on his own.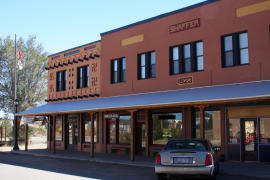 We've got farmers who share their goods at our outdoor market. There is also a real main street parade in July featuring classic cars, a , and a lot more! At night you will be greeted by a truly dark sky giving you more chances to wish upon stars than you could ever imagine. The Milky Way will also be overhead reminding you just how tiny our planet really is - kinda like our town!
We look forward to your stopping by and saying hi to us in Mountainair. You are always welcome!