New Mexican Green Chile Relleno
Asadero & Cotija Stuffed Chile Relleno with Red Chile & Green Rice
Prep Relleno:
Place 8 to 10 green Chiles on hot grill
Turn Chiles until skin is black and blistered
Remove Chiles  & place in bowl and cover with plastic wrap to steam skin
Once Chiles are cool, peel off skin carefully to preserve Chile's natural shape. Open a slit running along side & rinse out seeds in a bowl of water.
Filling: 
In a food processor place 1.5 cups of Cotija cheese and .5 cups of Asadero cheese and 1 bunch of cilantro, pulse food processor until ingredients are fully integrated. 
Place approximately 4 oz. of cheese mixture into each Chile and form back to appearance of natural green Chile shape.
Relleno Batter:
Separate 3 egg whites from yolks. Place egg whites in mixing bowl and whip until stiff. Place egg yolks in mixing bowl and whip until foamy, about three minutes. Fold egg yolks, 2 tablespoons of flour and 1 tablespoon of salt into stiff egg whites. 
Pre- heat oven to 400 degrees. Place a sauté pan over medium flame. Thoroughly coat sauté pan with 1 tablespoon of cooking oil. Run Relleno thru batter and place in hot pan. Pour a quarter cup of batter over each Relleno. Relleno should resemble an omelet. Make sure not crowd the pan. I advise doing no more than one to two Rellenos per pan. Cook Relleno for two minutes then turn and cook for additional two minutes. Place Relleno pan in oven and bake for an additional 3 minutes. Place on top of puddle of red Chile and pillow of green rice.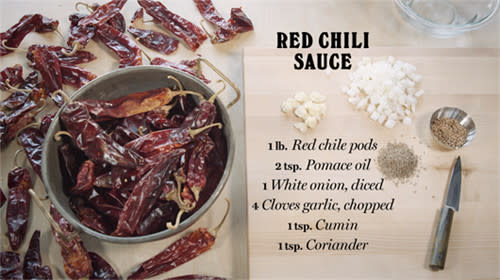 Red Chile Recipe:
Boil for ten minutes in 2 quarts of water 1 pound of red Chile pods, de- stemmed and de-seeded. Drain cooking water from Chiles and discard. In a large sauté pan over medium heat add 2 teaspoons of cooking oil and sauté one finely diced white onion, four cloves of chopped garlic and 1 teaspoon each cumin and coriander until golden brown. Put ingredients into blender with Red Chile Pods. Add warm water slowly until consistency is smooth and sauce-like. To refine texture push thru fine mesh strainer and season with salt to taste.
Green Rice:
Place in blender ½ cup water, 1 bunch of cilantro, 1 bunch of parsley, ¼ cup of chopped chives, 1 garlic clove and 1 sliced jalapeño. Pulse in blender adding olive oil until it is emulsified.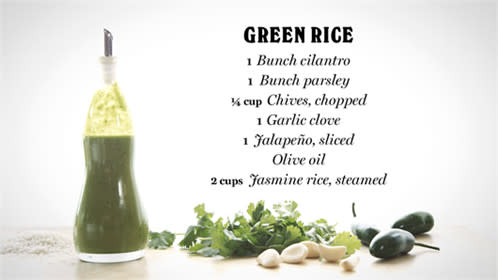 In a clean mixing bowl add two cups of Jasmine rice. Wash three times with cool water. Place rice in pot with cool water one finger knuckle above top of water. Bring to a boil. Place lid on top of pot, and over medium flame, cook rice for 8 minutes. Keep pot covered and turn off flame. Let stand for 15 minutes. Add green emulsion to rice until thoroughly integrated.