Born in Cuba, Frank Villorio's earliest memories are of fishing in his home country. After his family immigrated to the U.S. when he was four, the young fisherman began casting in El Paso's canals. He moved to Elephant Butte in 1994 to parlay his passion into a business as a fishing guide on the state's largest lake. A dozen years ago, he added "hunting guide" to his resume at Land of Enchantment Fishing & Hunting Adventures to fill in the low-season gaps in his schedule with outings for waterfowl seekers. 
I fished at Elephant Butte Lake State Park as a kid. I have a lot of great memories catching largemouth bass with my dad. Back in the late 1960s, that was the fish everyone wanted to catch. Then they brought the stripers in. I really liked the fight they give. They pull like a bulldog. 
I started my guide service because of the lifestyle. I have the freedom to do what I want, and I'm fortunate to excel at it. It's a passion, and I have been blessed to make a living off it. 
The variety of fish we have at the Butte is very attractive—crappies, walleye, largemouth bass, smallmouth bass, stripers, catfish. We have it all.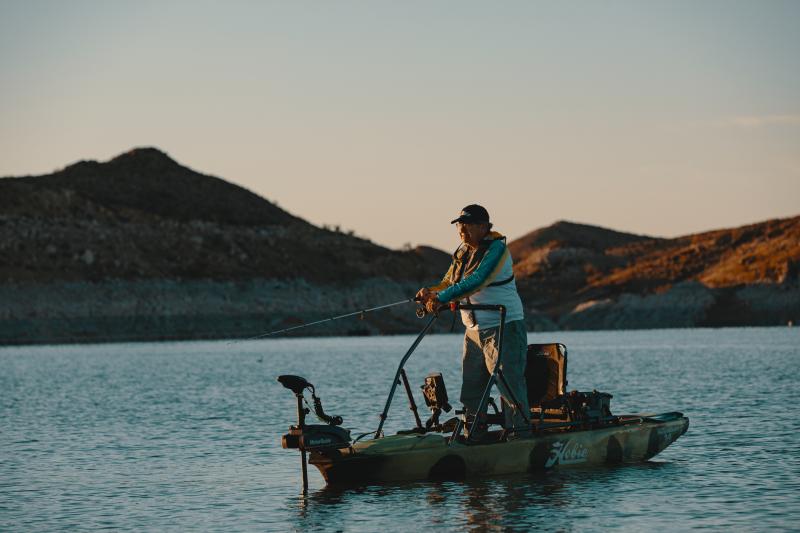 Walleye and crappies are cyclical. This year, I'm expecting a great year for the walleye. Crappie fishing depends mainly on their habitat. This winter, bushes came in to give them good cover, so later this spring they might take off. 
I've had so many good days on the lake. Last year, I had a lady from Colorado come on the boat. She caught a 45-pound striper. She fought that fish for a long time. It made her day and made my week when she landed it. I also really enjoy taking little kids out. Teaching them how to fish and watching them making their first catches is really fulfilling to me.  
I became a hunting guide because fishing is possible in the winter, but it's not as productive. We have everything from mallards to wigeons to pintails to goldeneye ducks. We're an hour south of Bosque del Apache National Wildlife Refuge, so this is a great place for migrating waterfowl.  
The scenery we have when we duck hunt is beautiful. We get hunters coming from places like Louisiana and Arkansas. A lot of these guys are used to hunting in rice fields or flooded timber. They come here to have a large lake with mountains in the background. It's quite a view in the morning. With the sun coming through the clouds, it looks like the sky is on fire. 
We also have upland quail hunting in the area and big game hunting in the mountains 30 miles away. Elephant Butte is a sportsman's paradise. Come here if you don't want to have a lot of people around. 
Even on my days off, I'll go out scouting on my own. I like to get on my side-by-side [utility terrain vehicle] and ride on the trails to do some birdwatching. ATVing is becoming pretty popular. Elephant Butte Adventure Center rents them to visitors. 
ATVs aren't allowed in Elephant Butte Lake State Park. But you can take off and hike there. I like to follow a trail that starts at the entrance and goes 10 miles (one way) along the lake. It's a high-desert lake with beautiful mountain scenery. The big draw is the white sand beaches you can camp on—but you'd better bring shade because there's no shade there. There's not a lot of people on weekdays, but there's a big crowd on Fourth of July weekend. It's a great place for water enthusiasts. There's jet skiing, wakeboarding, water skiing, and sailing. 
There are also ranch tours out to Ted Turner's ranches at Armendaris and Ladder. You can see bat caves and petroglyphs. 
We have a beautiful golf course, Sierra Del Rio Golf Course. It's a very challenging course, and they have a great clubhouse with the Turtleback Taphouse and Grill. It's great food with a fantastic view.  
The great outdoors is right there in my backyard. Why not take advantage of it?