Albuquerque's National Institute of Flamenco preserves and promotes the traditional art form while breaking new ground. 
Almost as soon as Joaquín Encinias could walk, he could dance—Encinias has flamenco in his blood. He grew up in Albuquerque where his grandmother Clarita Garcia de Aranda taught flamenco classes in the 1950s and his mother, Eva Encinias, founded the National Institute of Flamenco in 1982.
"Flamenco is a lifelong process," he says. "I learn from it every day. It shows me more about being a human than it does about being an artist." 
A spirited folkloric form of traditional music and dance that involves percussive footwork, guitar, and vocals, flamenco has roots in Spain, where it's been woven into the fabric of life for generations. In New Mexico, the National Institute of Flamenco aims to preserve and promote flamenco through professional performances, classes for every level, and the annual Flamenco Festival Alburquerque, which brings artists from around the world to collaborate, perform, and learn together.  
World-class venues host weekly performances featuring flamenco artists with distinctive styles. At Tablao Flamenco Albuquerque—one of the few venues in the country designed specifically for flamenco tablao—the institute brings local, national, and international flamenco artists to the stage every week through a partnership with Heritage Hotels & Resorts. At El Farol restaurant in Santa Fe, intimate flamenco shows have enlivened the Canyon Road space since its opening in the 1960s.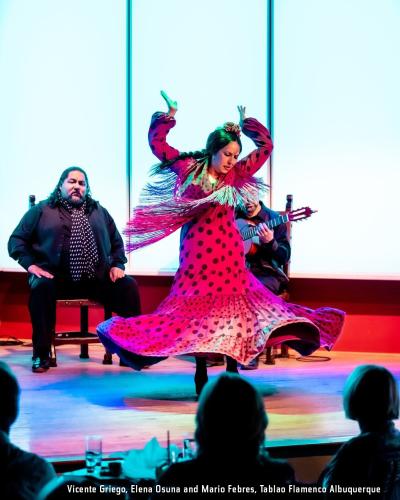 The National Institute of Flamenco is Eva's legacy. She dedicated her life to teaching the art form at the University of New Mexico, dancing daily, infusing it into her home, and inspiring her children, including Joaquín and his sister Marisol Encinias, who now serves as the executive director of the institute. 
"My mother, along with other artists, really set up our state for a long and prosperous flamenco future," says Joaquín, who serves as artistic director and choreographer behind Yjastros: The American Flamenco Repertory Company, the only professional repertory flamenco company in the United States. "Her life was not as much about her as it was about the art form. What that did was create a real desire to see monumental work being done."
Today, the National Institute of Flamenco provides dance and music classes at the Conservatory of Flamenco Arts, where students can start taking classes as young as age three and participate in flamenco companies beginning at age eight. In February, Yjastros became the first U.S. group to ever perform at the prestigious Festival de Jerez, in Spain. "The focus of the company is to educate our audience," Joaquín says, "but also for the young people in our community to begin to learn how to dance flamenco during the repertory process." 
Yjastros features between 12 and 14 dancers and 4 musicians at any given time, but Joaquín hopes to grow the numbers and create a traveling company in addition to the one that performs from its home in Albuquerque. "I think the country needs to see it," he says. "We have a lot to offer."  
Meanwhile, Flamenco Festival Alburquerque continues to grow. This year's 36th annual event, held June 9–17, will be the biggest festival ever with more than 20 performances by over 100 flamenco artists and 12 companies from around the world. "There's a real power in the ambassadorship of the festival," Joaquín says. "All of the artists come to the festival with this incredible energy. There is this infusion of flamenco knowledge and expertise. We are gifted so much in such a short amount of time."
Attendees will have the chance to see everything from traditional flamenco choreography to performances that push the boundaries of the art form. "One of the things I've been working toward is looking at nontraditional flamenco artists," Marisol says. "I want to give visibility to underrepresented people in the art form and large companies doing interesting work." 
Festival opener Daniel Doña Compañía de Danza is a great example of a big, innovative company. With 15 dancers and a combination of stylized Spanish classical dance and flamenco, the company presents movements totally unique to them. "It's very avant-garde," Marisol says. "The work on a crafting level is just exquisite. I am trying to show different representations along the spectrum of everything that could be considered flamenco." 
In all it does, the National Institute of Flamenco (a 501c3) helps to preserve flamenco traditions and forge space for it to thrive in the future. For Joaquín and others like him, flamenco is more than an art form, it is an essential part of who they are. "I dance on a daily basis for myself just to interact with the art form," he says. "When I do it, I feel full of life."