The historic Valencia Flour Mill provides a window into Los Lunas' storied past, rich traditions, and promising future.
Kathy and José Cordova, owners of the historic Valencia Flour Mill, outside the Village of Los Lunas, brought much more than their respective marketing, communications, and process engineering skills when they returned to José's ancestral community in 1988. 
"We moved back from Minnesota, where José had been working for 3M, and where I was born and raised," says Kathy of the couple's revival of the 107-year-old Cordova family business. After renovating the building, José reconfigured the milling process and Kathy began developing new products. Now, their thriving venture serves as a link to the past in an area of Valencia County once regarded as merely a bedroom community to its larger Albuquerque neighbor.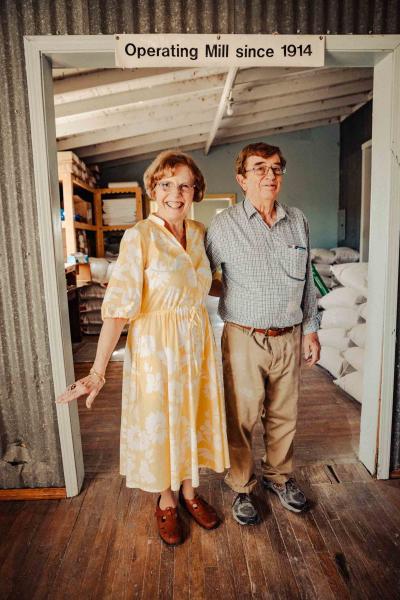 "There's a lot of change happening here," says José, reflecting on the expansive future of Los Lunas. Both Facebook and Amazon, with their large data and distribution centers, have created jobs and economic opportunities. New brewpubs and favorite New Mexico chain eateries like the Range Café, Weck's, and Dion's have joined well-loved Teofilo's Restaurantand Manny's Fine Pastries to offer longtime residents and newcomers even more choices. A planned second bridge over the Río Grande will further connect farming, ranching, and dairy villages separated by the river.
"We love to drive by the Luna Mansion," says José, of the large home built by the Atchison, Topeka & Santa Fe Railway in 1881 in return for the right-of-way through the Luna-Otero family's land-grant holdings. For them, it harkens back to the village's role in expanding commerce via railroads. Today, the New Mexico Rail Runner Express delivers commuters and visitors into the heart of Los Lunas for shopping, dining, and exploration.
For all the bustling business activity, what hasn't changed is the underlying feeling of close-knit community, the couple says. They point to the deep traditions and community pride that can be experienced during a stop at the Museum of Heritage & Arts. Set on Main Street, the museum features rotating exhibitions ranging from the almost-forgotten passage of historic Route 66 through town to the U.S. military ships named for noteworthy New Mexico people and places. Regular talks by local historians and members of the Valencia County Historical Society help link the growing village's past to the present.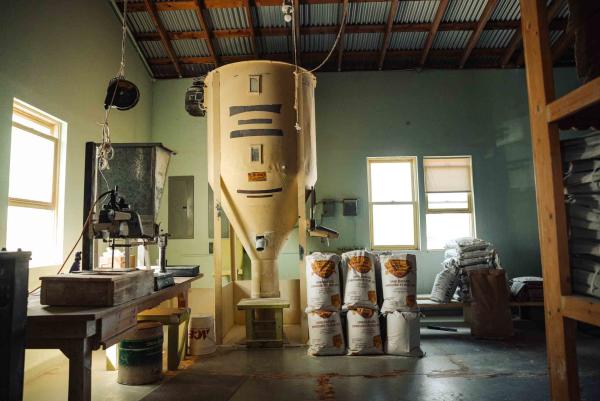 Los Lunas's underlying rhythms follow the Catholic liturgical calendar, too. "Everyone participates in the pilgrimages up Tomé Hill at Easter," says José. "There are also the Christmas parades with lighted floats and decorated cars. We like going to the Mission San Agustín de Isleta with its shrine to the first Native Catholic saint, Kateri Tekakwitha. That really brings the community together." 
Continuing traditions are important to Los Lunas—and to the Cordovas—in this place where many are related, and everyone knows one another. Valencia Flour Mill has extended its legacy of grinding only New Mexico wheat and corn to produce flours as well as pancake, sopaipilla, muffin, and fry bread mixes for home and restaurant chefs. Tours on the first Monday of the month demonstrate both the past and ongoing legacy of the mill. "My father milled blue corn for people from the Isleta Pueblo. I remember them coming in pickups for him to grind blue corn," says José. "I remember in the late 1940s and '50s, one activity that brought people together was baseball games between the local village teams—Jarales, Tomé, Los Chavez—they all had weekly games, and everybody would go. That built community." 
"It's a stabilizing familiarity, and a friendliness comes out of it," Kathy adds. "People are proud of their historical roots."