With chile season teasin', we couldn't pass on the opportunity to indulge in green chile cheeseburgers on Edible's Green Chile Cheeseburger Smackdown Social Media Crawl.Not sure what consumption of multiple GCCs over a two-day span might mean, we decided to divide and conquer the crawl with Laura assigned to Albuquerque and Eric in Santa Fe.
The crawl included contenders for the annual Green Chile Cheeseburger Smackdown, slated for September 8 at the Santa Fe Farmers Market Pavilion. GCC enthusiasts don't have to wait until then to get in on the action though. Download the smackdown passport and start testing the burgers now, then vote for your favorite. Tickets for the event are also available here.
For further inspiration, we documented our experience. If the photos don't get your mouth-watering, we don't know what will.
ALBUQUERQUE: Green Chile Cheeseburger Smackdown Social Media Crawl Day 1
Making my way to Kimo's Hawaiian BBQ, I questioned the navigation of my GPS. Located in between Candelaria and Comanche in Albuquerque, this spot is immersed in the industrial area of town, but, upon looking closer at my map, also conveniently located near La Cumbre Brewing, Canteen Brewhouse and Left Turn Distilling. So, if you are making your way here, keep in mind the brewery options available. Chef Kimo greeted us with the Da Kine Green Chile Cheeseburger, which balanced the fiery feels green chile with a tangy Hawaiian sauce – not your typical green chile cheeseburger by any means, but definitely something worth trying.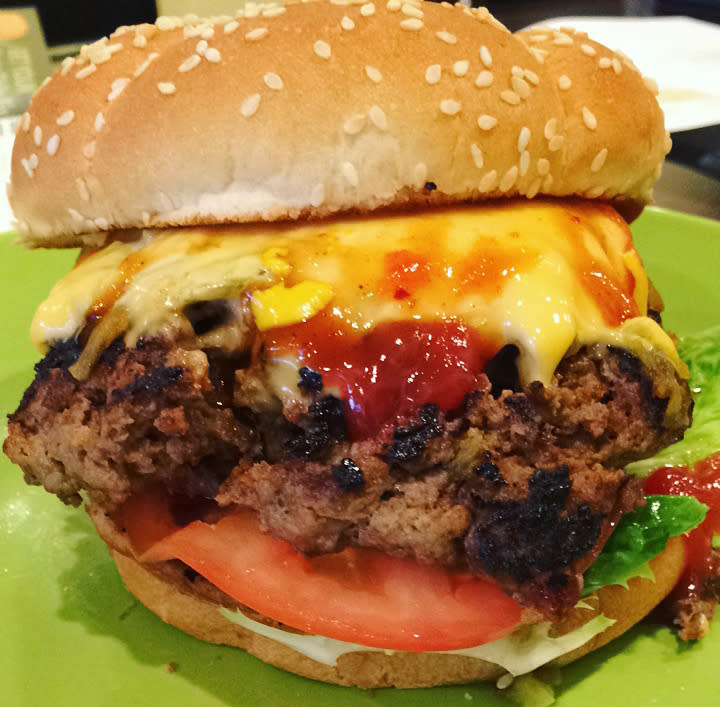 At MAS Tapas y Vino, our next stop located inside downtown Albuquerque's Hotel Andaluz, Chef Marc Quinones presented The New Mexico Autumn Roast. Chef Marc's burger won the 2016 smackdown when he worked at the Living Room at The Inn and Spa Loretto in Santa Fe. This year's contender is served on a housemade milk bun with avocado spread, Tucumcari cheddar, crispy Jamon Serrano and Hatch Autumn Roast Chile. Flavorful and traditional, this GCC also had top-notch presentation quality.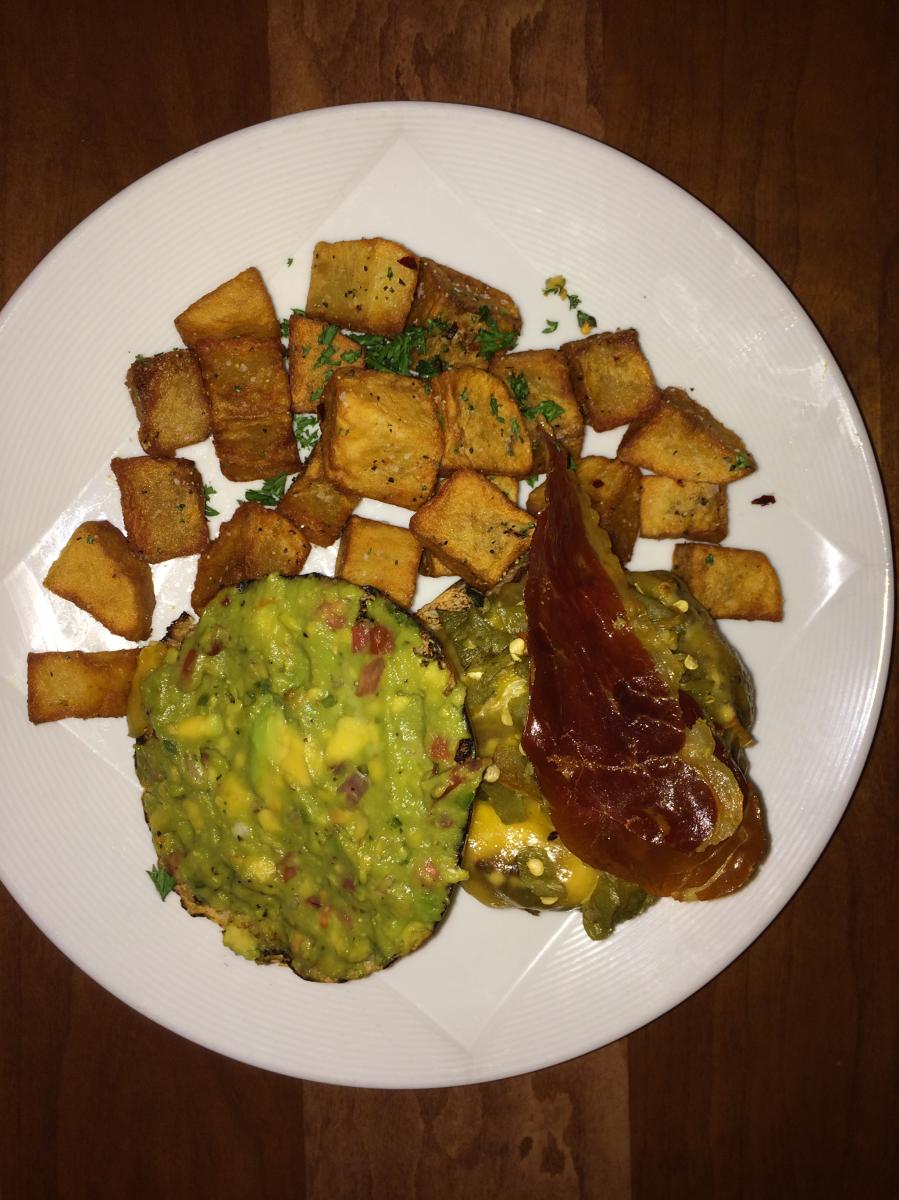 The next stop was in an actual kitchen. On the campus of Central New Mexico Community College, Chef David Sellers was in the midst of cooking the patties for his Beeflo Mushroom Burger. Chef Sellers is currently the Street Food Institute's Executive Chef and program director. The Institute is a culinary entrepreneurship teaching program whose mission is to assist startups of small food business in NM. This burger included caramelized onions, green chile, cheddar, "secret sauce," brioche, romaine and mushrooms. The blend of green chile, mushrooms and secret sauce delivered a burger like I have never had before.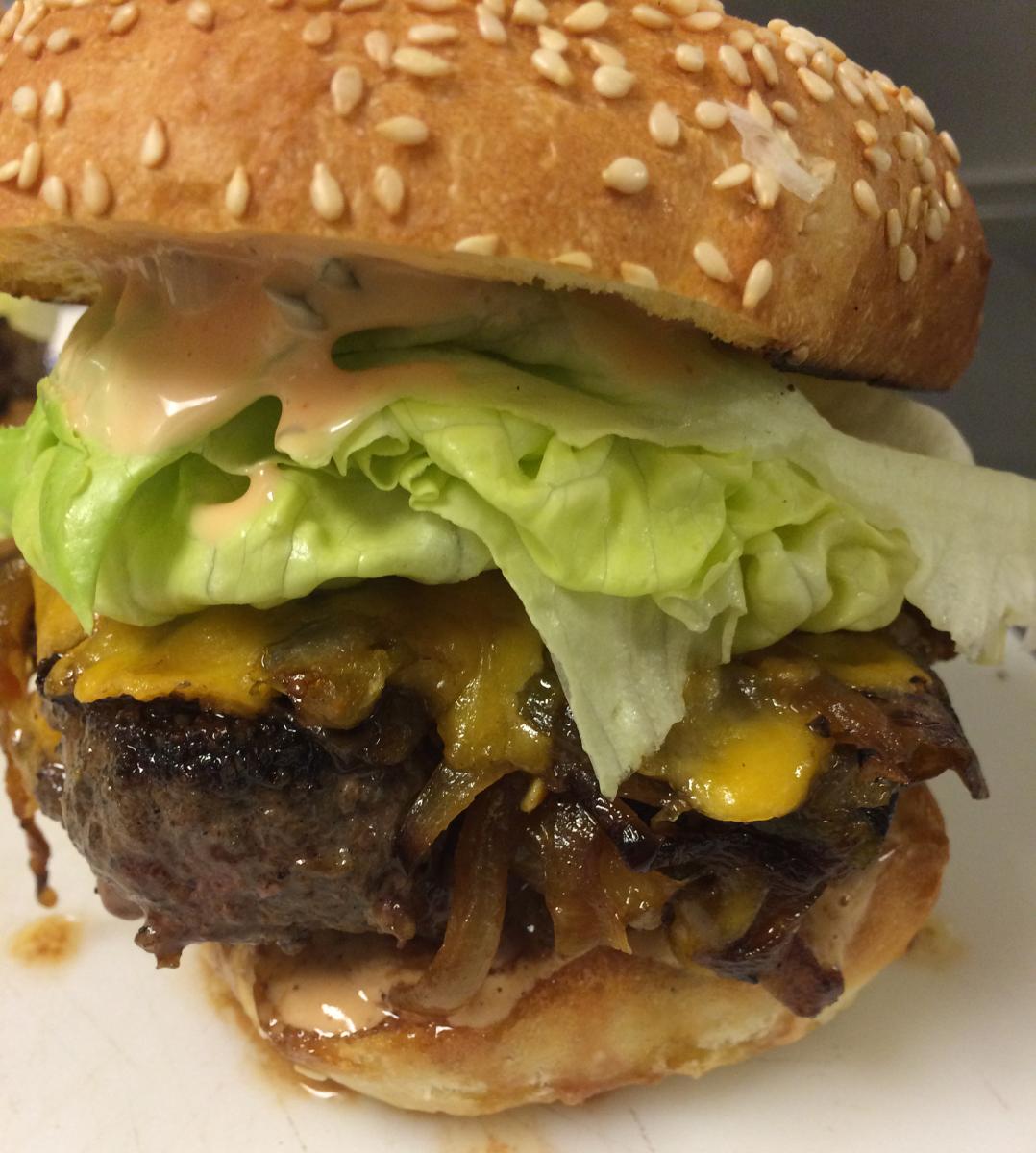 Stop No. 4 brought on the Fire Roasted Mexican Chorizo Burger from Chama River Brewing Company. A couple bites in I sensed something missing only to realize the description, and burger, were green chile-less. Still, this option offered some excitement for the taste buds with the roasted poblano aioli.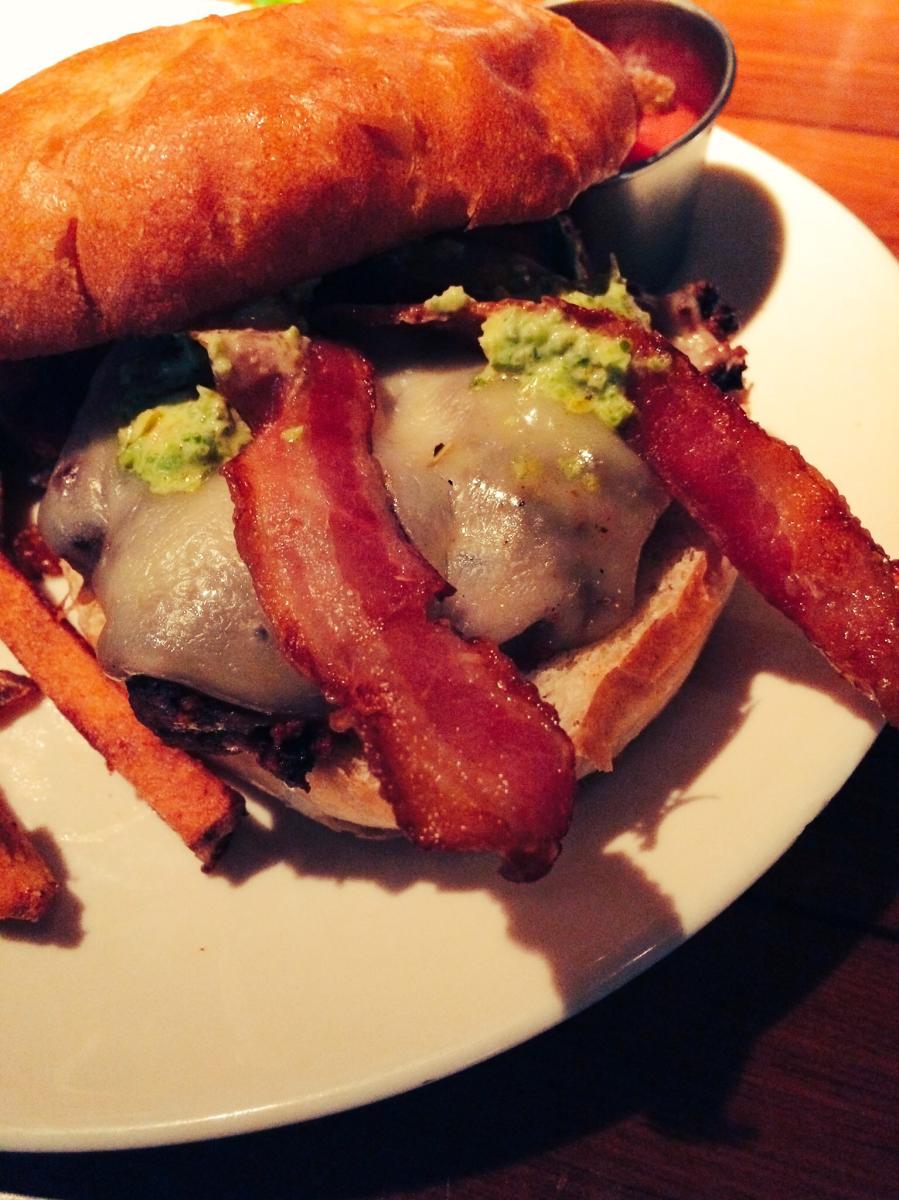 Last, but not least, Bernalillo's Freight House Kitchen + Tap's SF Line burger. The largest offering by far, this half pound smashed chuck + brisket burger was smothered in Autumn Roast green chile and Tucumcari cheddar drawing parallels to the MAS Tapas y Vino burger, but still with its own distinct flavor.


All in all, this crawl provided a good balance of traditional, classic Green Chile Cheeseburgers, but mixed in two unique options with Kimo's Hawaiian BBQ and the Street Food Institute.
SANTA FE: Green Chile Cheeseburger Smackdown Social Media Crawl Day 2
I recently had the good fortune of being invited to take part in Edible Magazine's Green Chile Cheeseburger Social Media Crawl. Our leg of the crawl consisted of four Santa Fe restaurants.
First stop along the journey took us to Blue Heron Restaurant at Sunrise Springs Spa Resort. Chef Rocky Durham proudly presented his meticulously crafted "Life-Changer". The brisket and rib eye patty is topped with local northern New Mexico green chile, vintage cheddar and house-made pickles.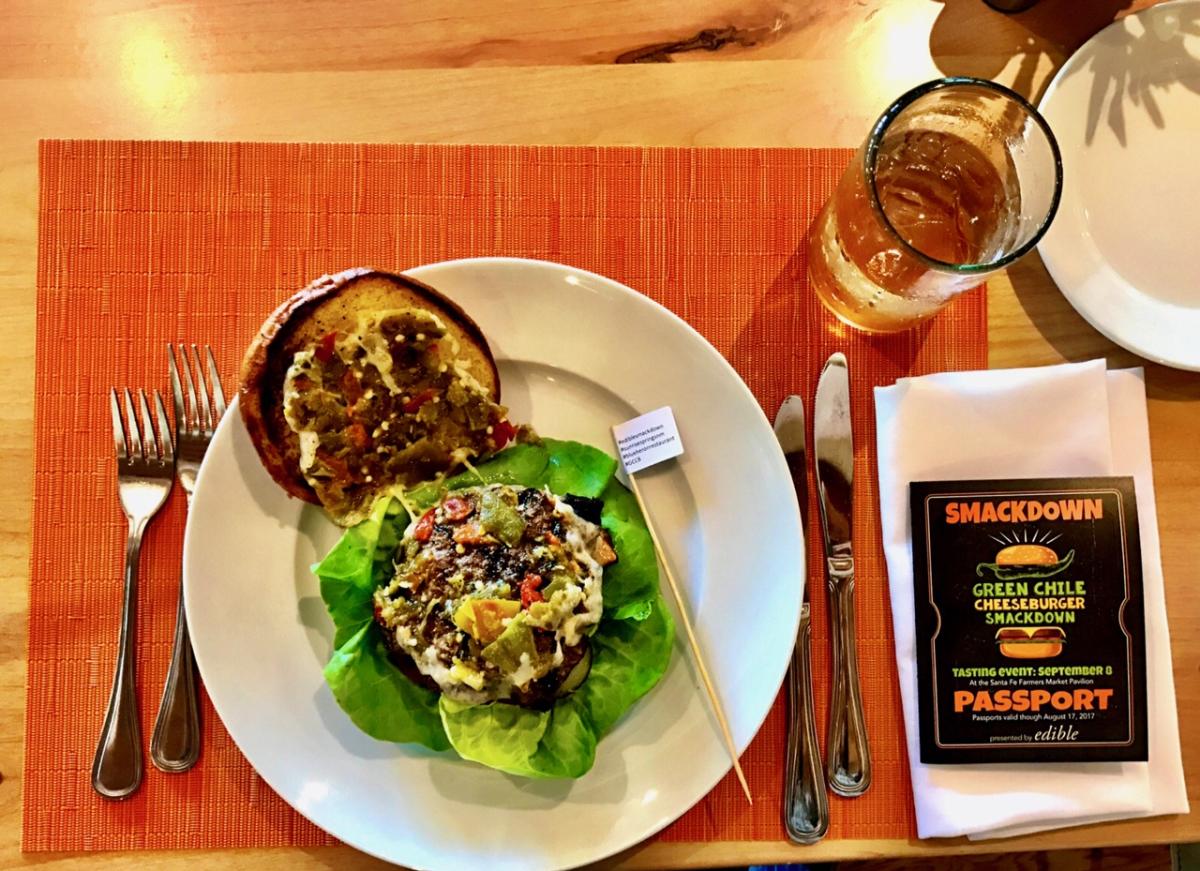 Our next destination was the Blue Corn Brewery. Their entry, the Baconator Green Chile Cheeseburger, features a ground bacon and pork patty, green chile, asadero cheese and topped with an egg. I really enjoyed the pork patty, but there was something about the pork and egg combo that made the New Mexican in me crave some red smothered on top.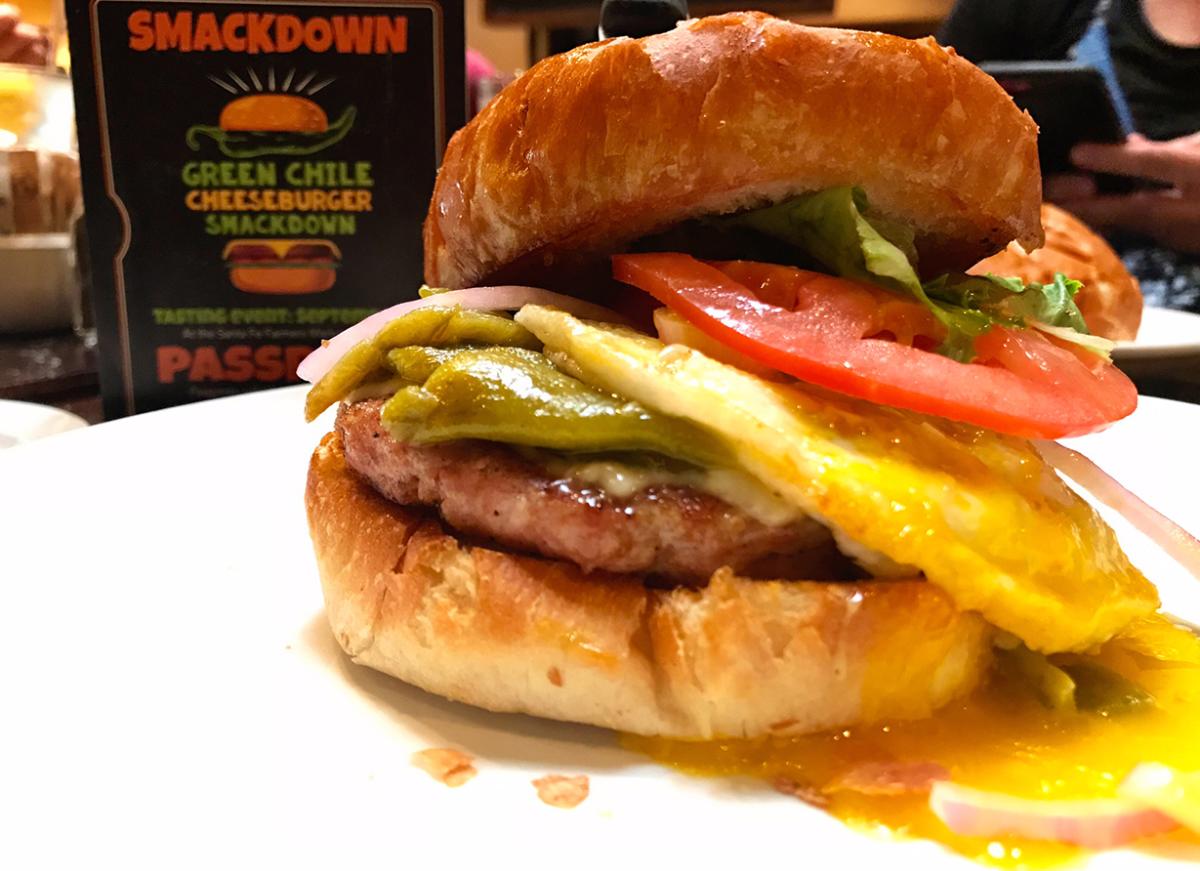 Third stop took us off the beaten path to the recently opened Rowley's Farmhouse Ales. Their traditional offering is enough to make any localvore rejoice.  The patty, made from beef sourced from the 4 Daughters Ranch in Los Alamos, is topped with NM green chile, goat cheddar from the Old Windmill Dairy and Zoe's Bacon. The generous portions of fries and onion rings were enough to make sure no belly left unfilled.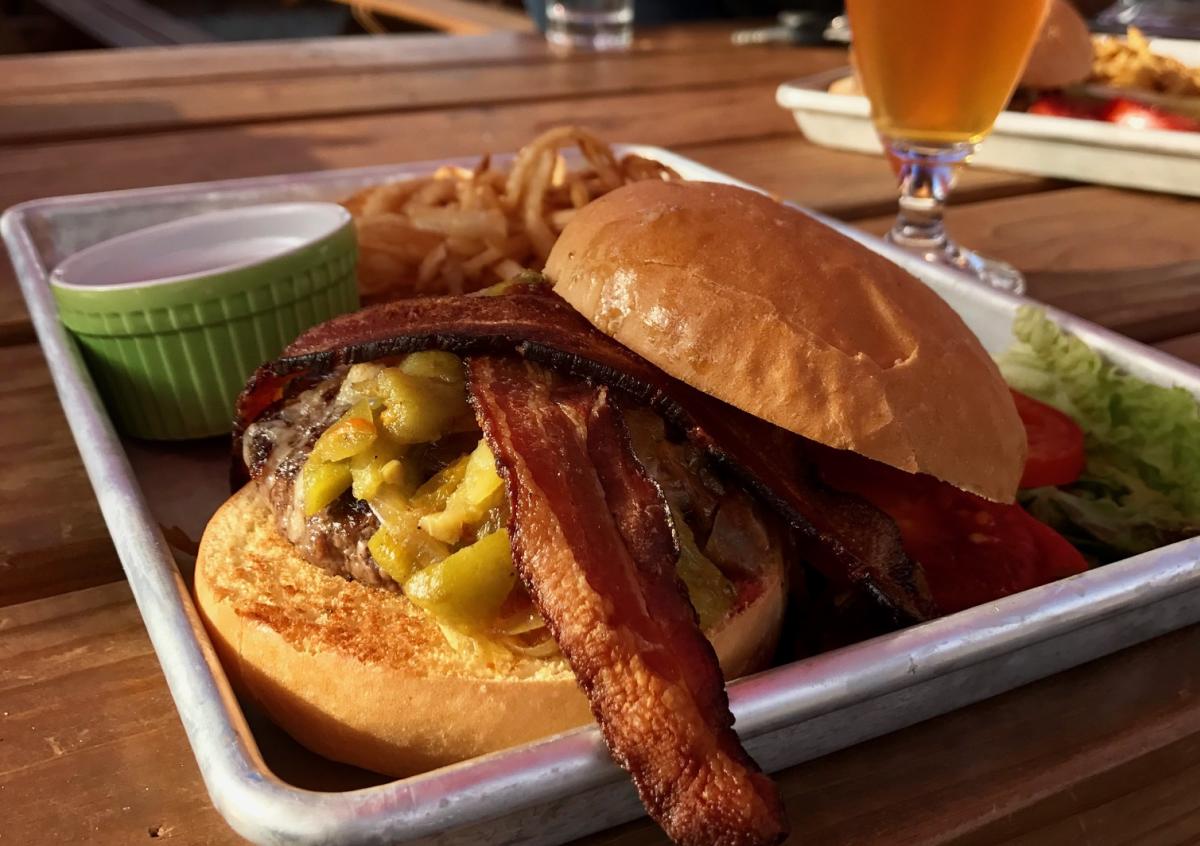 Our last stop on the crawl took us to the Inn of the Anasazi. This unique burger comes with a buffalo patty and is topped with whole green chile, triple cream brie, mustard seed aioli and Velarde peaches. I am typically a green chile cheeseburger traditionalist, but this unique flavor profile brought a whole new element to the Green Chile Cheeseburger game.