Healing Waters, Healthy Vibe: Jake Foerstner of Riverbend Hot Springs on the coolest thing about Truth or Consequences. 
Longtime Truth or Consequences resident Jake Foerstner owns and operates Riverbend Hot Springs, where 17 common and private pools edge the flowing Río Grande. Foerstner has watched T or C, as the southwestern New Mexico town is known to locals, reclaim its roots as a desert oasis. Travelers throughout history, from Indigenous peoples to Route 66 roadsters to visitors from around the world, have soaked their weary bones in the geothermic waters that bubble to the surface here between 95 and 108 degrees. These days, health-seekers have their pick of 10 bathhouses, yogis, masseuses, and more. 
I grew up in Truth or Consequences. We moved here in 1988 when I was 8. Now, at 40, I've seen the town experience a renaissance. It's returning to its original identity as a city of health and a mecca for healing. The combination of hot springs and the healing arts is a perfect marriage. A lot of unique healing practitioners have moved to the area, including craniosacral therapists and sound healers. They promote healthy living as well. And the location is suited to it, with our clean air and water. It's a low-stress town to live in.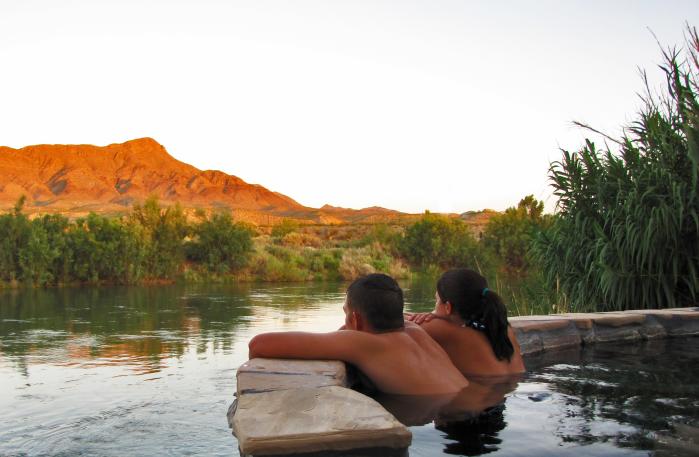 My family decided to move here while taking a vacation/house-hunting expedition from Yuma, Arizona. My dad was looking for a safe, small town to raise a family. We were driving down the street when the owner of Smith's Minnows bait and tackle shop hung a FOR SALE sign. Suddenly, our vacation had turned into a eureka moment. We'd found our home. 
My parents, Lee and Sylvia Foerstner, purchased the property, which was the only commercial property along the Río Grande, which hugs one edge of town. At first, they ran it as a bait shop. We'd camp in the Gila National Forest and trap our own minnows to sell. One day, Ben, my then-13-year-old brother, accidentally let all the water out of the minnow tanks, killing months' worth of minnows, and the family business with them. It's the only time I'd ever seen my dad cry. But it turned out to be a catalyst for my dad to do something with the hot springs. 
We drilled a well and opened Riverbend Hot Springs as a youth hostel. People would stay in mobile homes and an old building, and they'd soak in mineral water pumped into the minnow tanks. It was very rustic, but youth hostelers were just looking for adventure and inexpensive accommodations. International travelers visited often. I shared my backyard with people from all over the world.
After September 11th, we had fewer international travelers, and the business took a downturn. My parents wanted to sell, but I offered to take it over. In 2006, I did. The changes we've made have been organic. We've just been providing guests with what they wanted—private rooms and a quiet, gentle ambiance. We have soaking pools with gorgeous views of nothing but nature, including the beautiful Río Grande and Turtleback Mountain.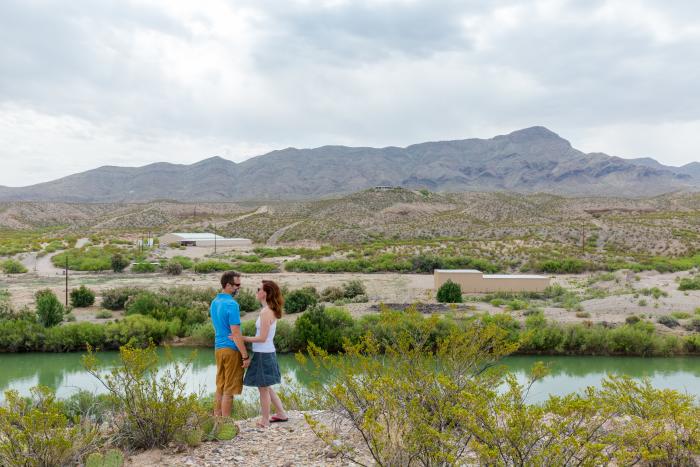 I personally enjoy the natural resources in and around T or C. We're right on one of the coldest and clearest sections of the Río Grande. It's a great place for recreation, including fishing, kayaking, and birding. We have Elephant Butte Lake and Caballo Lake. In less than an hour, you can be camping, hiking, and hunting in the mountains of the Gila National Forest.  
T or C is extremely laid back. People don't keep regular hours; they work on their own time. I think that actually promotes the relaxation that people can expect when they come here. No one's in a hurry to do anything.
We offer respite from all the current stresses. People are flocking to small towns, which are perfect for social distancing, with outdoor attractions. That's right up our alley.