"Several really relatable pieces of history meet up in Clovis," says Lisa Pellegrino-Spear of this eastern New Mexico town that nudges the Texas state line. "The history of American transcontinental rail and air transportation, and music, and even prehistoric history can be found here. Plus, we've got a progressive country vibe that looks to the future." 
As Executive Director of Clovis MainStreet, Pellegrino-Spear helps oversee both the town's historic preservation and futuristic development. Her "progressive country" description comes from the region's transportation, farming, and ranching roots combined with a growing entrepreneurial ecosystem. Here, a frontier, can-do attitude kindles passions for family-friendly events like rodeo, team roping, and barrel racing, as well as exciting livestock and horse auctions. At the same time, Clovis' designation as a "Smart Rural Community" with world-class fiber internet encourages remote work and online business development.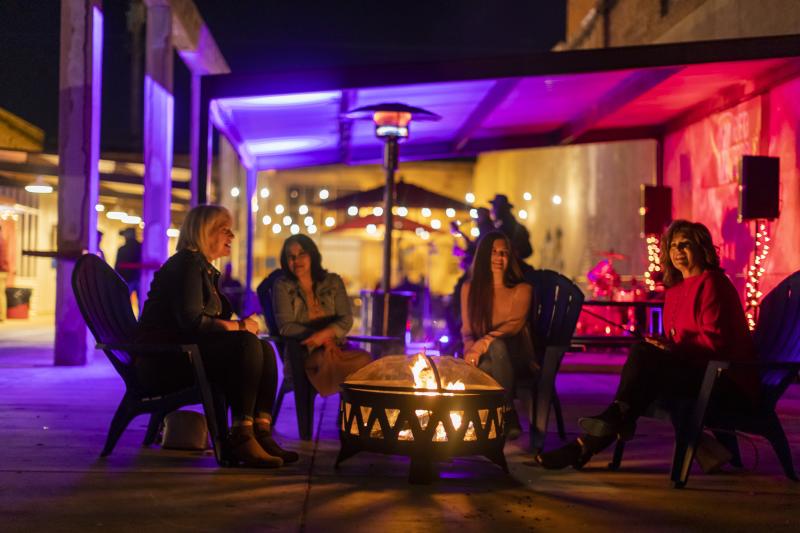 The Kick Ass Entrepreneurs Clovis networking group launched in 2020 to foster that 21st-century spirit, which fizzes with three new breweries, a coworking space in a historic firehouse, and a new railroad park with a restaurant in a former Fred Harveyera depot. "Clovis has a lot to offer both residents and visitors," Pellegrino-Spear says.
The railroad history debarks at the city's Phil and Vernah Williams Historic Railroad Park, anchored by a restored 1906 Atchison Topeka & Santa Fe Railway locomotive—No. 9005, to be precise. The Clovis Depot, built in 1907 and now listed on the National Register of Historic Places, was one of the busiest stops on the Santa Fe Railway, carrying travelers from Chicago to California, Dallas, and Houston during the height of the Fred Harvey Co.'s popularity. The recently restored depot holds The Rails Restaurant, brainchild of brothers Jourdan and Tate Nichols.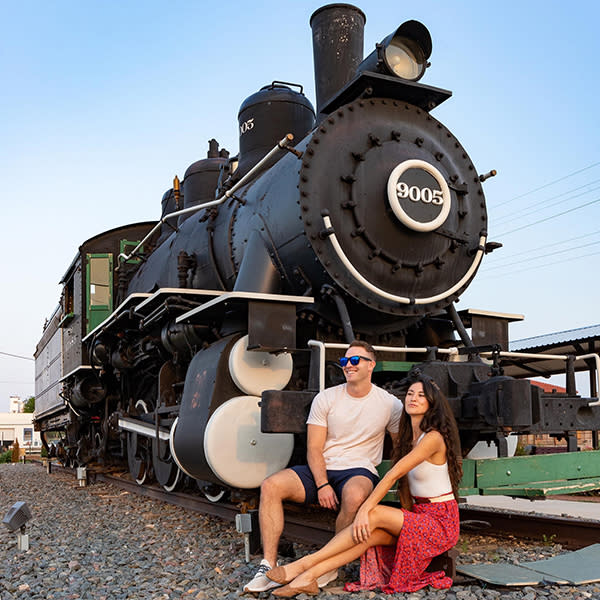 Clovis was also a transcontinental air hub. In the late 1920s, the Transcontinental Air Transport company's first combined rail and air service carried 50 notables, including Charles and Anne Lindberg and Amelia Earhart, from New York City to Los Angeles. They stopped at the Clovis Depot to transfer from the Santa Fe Railway to an airplane headed to Albuquerque. The original Clovis terminal, Portair Field, is now Cannon Air Force Base.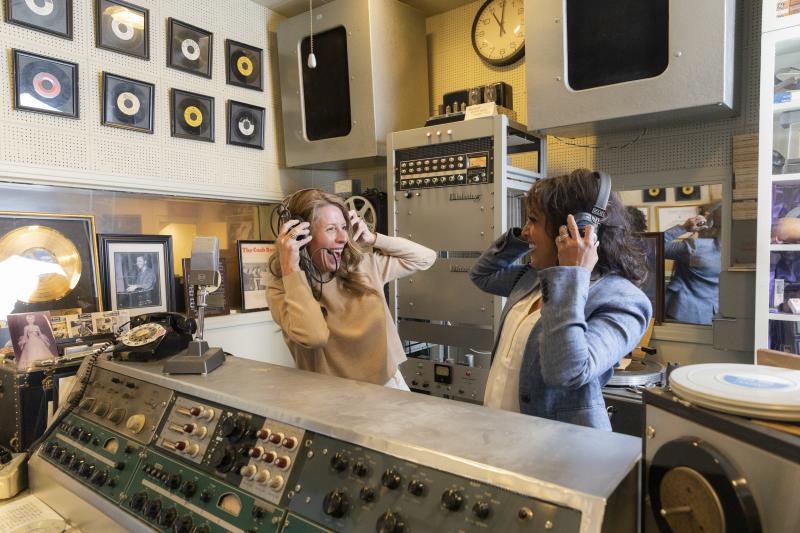 Clovis also claims notable contributions to entertainment history, among them three historic theaters all undergoing revitalization. The 1919 Lyceum Theatre, owned by the City of Clovis, will return to its origins as a movie and live theater. The 1925 Mesa Theatre, owned by Clovis Community College, is transforming into the Norman & Vi Petty Performing Arts Center to support the college's Cultural Arts Series. The 1936 Art Deco State Theater is privately owned and under renovation. 
Norman Petty used the Mesa as a recording studio and radio station for 20 years. His other, more famous Clovis studio produced what's known as the "Clovis Sound," featuring acts such as Buddy Holly and Roy Orbison. Contemporary musicians like Waylon Jennings and Leann Rimes recorded there, too. A visit to the Norman and Vi Petty Rock & Roll Museum and nearby Norman Petty Recording Studio are must-dos to see the equipment they used and to marvel at the rich cherry wood 1950s furniture and decor. The community is also in the process of creating the Clovis Sounds Studio, a fully-functional recording studio using the period, high-fidelity analog equipment in the museum – a feature that is sure to make visitors' musical experience in Clovis off the charts.
The history of Buddy Holly's tragic end is told on a mural created by Clovis Community College students, with the help of Clovis MainStreet, that interprets the lyrics of Don McLean's "American Pie" in a downtown that also burbles with numerous antique shops. In addition, Pellegrino-Spear notes that the mural on the historic Hotel Clovis—a pioneer woman from our ranching and farming past—was painted by renowned artist Drew Merritt.
So, what about the town's way, way back history? Well, the Blackwater Draw National Historic Landmark, discovered in 1929 by Clovis native Ridgley Whiteman, holds evidence that the area's earliest humans resided there 13,000 years ago—the so-called Clovis Man. Research continues at the site between Clovis and nearby Portales, and the Blackwater Draw Museum in Portales has a touch-and-feel collection where you can pet real mammoth bones—preferably while humming Buddy Holly's "That'll Be the Day."