"It was just the Wild West." Frank Potter, a longtime Ruidoso resident and local historian, ticks off a few of the events that made it so. In the mid-to-late 1800s, he notes, Lincoln and Otero counties were lawless places, where the Mescalero Apache, Hispanic settlers, Army soldiers, cattle barons, notorious cowboys like Billy the Kid, and legendary sheriffs like Pat Garrett faced off. He points to Fort Stanton Historic Site, one of the most intact military forts in the country that stands in Ruidoso's backyard. It takes its name from Henry W. Stanton, a young captain killed in a skirmish with Apaches in 1855. Such interactions were par for the course, and Ruidoso—about two hours north of the Texas border—was at the nexus of it all.  
"A lot of people don't recognize us as being the Wild West now," Potter says of a town better known for great food, craft brews, horse races, ski slopes, and charming cabins. "But if you drive around the area, for example from Lincoln to Carrizozo, to Tularosa to Mescalero, back to Ruidoso, you're going to see a lot of that Western history."  
Reenactments bring military life in the Old West to life on the 12-building parade grounds at Fort Stanton. With a little imagination, visitors can still envision Billy the Kid making his great escape form the Lincoln County Courthouse in the throwback town of Lincoln, now also a state historic site. Modern cowboy culture bursts from the starting gate at the horseracing track at Ruidoso Downs Racetrack and Casino. The All American CowboyFest, formally known as the Lincoln County Cowboy Symposium  also celebrates cowboy culture with Dutch-oven cookoffs and poetry readings.  
Ruidoso's former rough-hewn edges have softened into Southern-style hospitality. Utterances of "ma'am" and "sir" are heard regularly, and the local coffee shop offers cups of joe on the honor system if you hitch up to its post before the official opening time. Potter says the transition to this new-fangled way began as late as 1908 when the first paved road from El Paso opened the town to vehicle traffic.  
Visitors arrived in droves. They were seeking the mountains' cool climes and picturesque scenery. The Sacramento Mountains also go by their nickname, the Texas Alps, thanks to their favored status among certain out-of-state visitors. A cabin-building boom followed the paved road. Today, travelers still won't find many high-rise hotels. The most classic accommodations remain mountain homes and quaint cabins.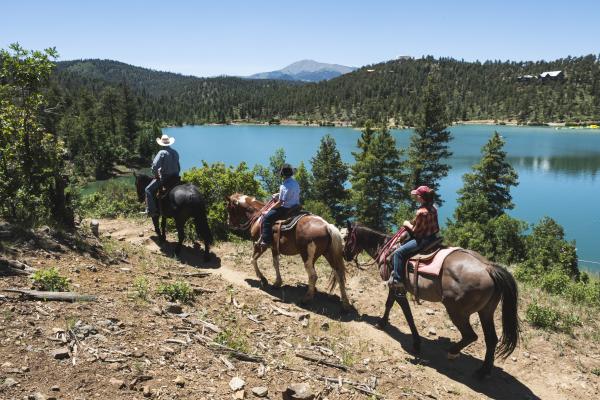 Instead of bucking broncs, today's cowboys conquer the outdoors in Ruidoso. Ski Apache, the second largest ski area in New Mexico, supplies runs at the southernmost continuously operated ski area in the country—and one of the few owned by a Native American tribe. It also delivers thrills via its high-elevation zip line. Grindstone Lake has quickly become an outdoor mecca for everything from paddle sports and family water play to hiking and mountain bike riding along the shores. Grindstone Lake also boasts one of the town's three disc-golf courses, including a championship-level course designed by pro golfer Eric McCabe that happens to have the longest-distance disc golf hole in the state.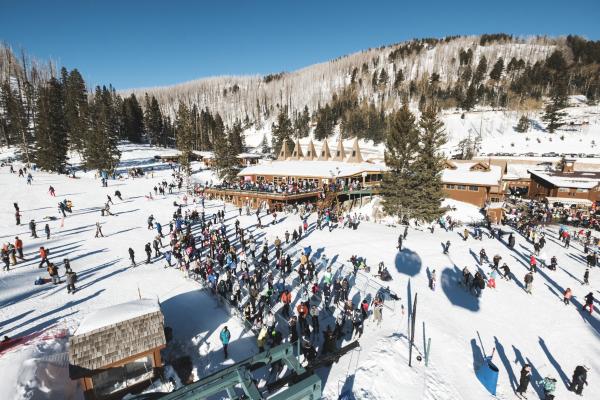 Hundreds of miles of hiking trails await in the Lincoln National Forest, including one with a historic pit stop. The 1940 Monjeau lookout is a popular spot for epic views and spring wildflowers. No matter where you land in Ruidoso, outdoor recreation is usually only a stone's throw away. More than 40 miles of multi-use trails are accessible directly from the town center, known as Midtown. 
The Midtown district draws locals and travelers to shop and dine in local boutiques and family-owned restaurants. Grab a Belgian waffle at Cornerstone Café, a slice of pizza at Café Rio, or a steak at the Texas Club Grill & Bar to fuel up for browsing the district's art galleries, antique stores, and boutiques. Strolling the district turns into a public art tour thanks to nine murals at destinations such as the Village Buttery and the Tall Pines Beer & Wine Garden. To explore the arts farther afield, grab tickets to a show at the Spencer Theater of the Performing Arts. The renowned theater is a world of art in itself with striking architecture and a lobby overflowing with glass sculptures by Dale Chihuly.  
"Wherever you're from," Potter says, "when you come to Ruidoso, it's like you're coming back to your hometown. There's no great big businesses here, no big motels. You can just come here to relax, kick back, and clear your mind."