Debbie Pogue joined her husband in his hometown of Moriarty when the duo moved back to the agricultural community east of Albuquerque in 2010. They came to take over daily management of Mike's family's motel. Opened in 1959, the Sunset Motel is the only known original Route 66 motel in New Mexico still owned by the original family. Debbie has become a voice for Route 66 preservation and the down-home, family-friendly way of life in Moriarty. 
I grew up in a small town in Alabama, but it was still three times the size of Moriarty. I remember visiting early in our relationship, and Mike's mom was the mayor. She knew everybody. It's a very friendly community.  
We lived here for a couple of years in the late 1990s, and we moved back in 2010 to run the motel. Its Route 66 history has been a lot of fun for me. A group of us from Moriarty through Edgewood and Tijeras formed a nonprofit, Retro 66, to celebrate and promote Route 66. We have 57 drivable miles traveling from Moriarty to the west side of Albuquerque. A lot of people think Route 66 is the past. They don't realize that the past can bolster the future.
We've created a lot of events that add to the nice way of life out here. In September 2019, we had a two-and-a-half-day event that brought people to the area for history talks on the town, a choir performance, other live music at Sierra Blanca Brewing Company, and a film festival. 
We've also helped with Route 66 preservation. The organization secured a grant from the National Park Service Route 66 Corridor Preservation Program to restore the Whiting Bros. gas station sign. It's now the only architecturally pure Whiting Bros. station along Route 66 with an original sign standing above it. There are remnants of Whiting Bros. stations along Route 66, but we have the whole megillah. It's a big deal for Route 66ers to get their neon sign and the Sunset Motel neon sign in the same picture. They're just two of the must-see stops on Route 66 in the area.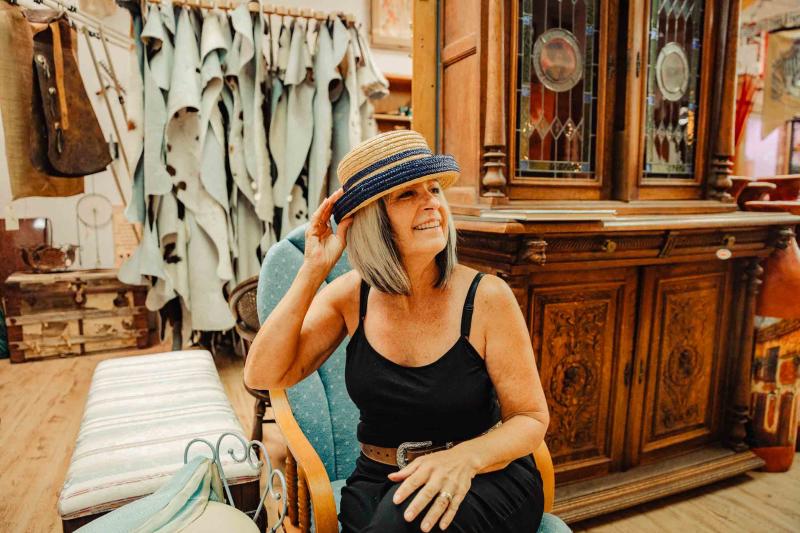 Lewis Antique Auto & Toy Museum has one of the largest collections of classic cars on Route 66. There's also one of Route 66's famous rotospheres at El Comedor Restaurant, which is now an antiques mall. On the east side of Edgewood, the unoccupied but photogenic Midway Trading Post is a great place to pull over for photos of its exterior murals. 
Route 66 travelers are getting younger. I recently had a group where the oldest had just graduated from college. The younger ones seem to want a local, authentic experience, and they get it here. 
People are surprised to learn that Moriarty has the third busiest airport in New Mexico, primarily because the Albuquerque Soaring Club is based out of it. Sundance Aviation also offers sailplane rides and lessons and scenic glider rides. 
We have great antiquing in the area, too. El Comedor Restaurant is now Country Friends Antiques. Also in Moriarty, the Whole Kit 'N Caboodle has a variety of treasures including recycled art. In Edgewood, the Church Street Market is really cool. There are even more quirky local shops along the Trinkets & Treasures Trail. 
Moriarty doesn't have a town center. Everything is built up along one street. People tend to drive through, and they don't see everything that's here. They need to take time to go into a store and start talking to people. That's how they can get to know all that's truly here.