Chris Lang founded Organ Mountain Outfitters at the Farmers & Crafts Market of Las Cruces, a year-round gathering that attracts local growers and makers to a seven-block stretch of downtown on Wednesdays and Saturdays. The brand was so popular that Lang had customers showing up at company headquarters—aka his home—to purchase freshly screen-printed T-shirts. From those beginnings in 2016, the apparel company celebrating Southwest aesthetics and outdoor recreation has grown exponentially and now operates storefronts in Las Cruces and Albuquerque. From its profits, it has donated more than 100,000 school lunches in Doña Ana County and the Duke City. 
When I first drove into Las Cruces, it felt like I was driving into a postcard. It was breathtaking. I'd never seen anything like it. My wife grew up in Las Cruces so after we got married in Cloudcroft in 2006, we moved to Las Cruces to start a family. 
I grew up on Cherokee land in Oklahoma. (My stepfather was Cherokee.) Growing up in the Ozarks, I spent a lot of time hiking, swimming in creeks, and exploring caves. I loved the outdoors. New Mexico is a paradise for outdoor recreation, particularly in Las Cruces. We have beautiful mountain ranges, including the Organ Mountains, within 10 minutes of the city, the Lincoln National Forest two hours from us, and the Gila National Forest a bit farther northwest. White Sands National Park is 45 minutes from us. It's an amazing part of America that provides a lot of diverse terrain.  
I'll always remember the first time I went hiking in the Organ Mountains to Soledad Canyon. It was like being in Jurassic Park, like a movie set. It was so interesting seeing the different types of terrain along the trail. There was a waterfall fresh from the rain. From the valley, the mountains look like they would be very desert-y, very rocky, but there are these beautiful diamonds of adventure.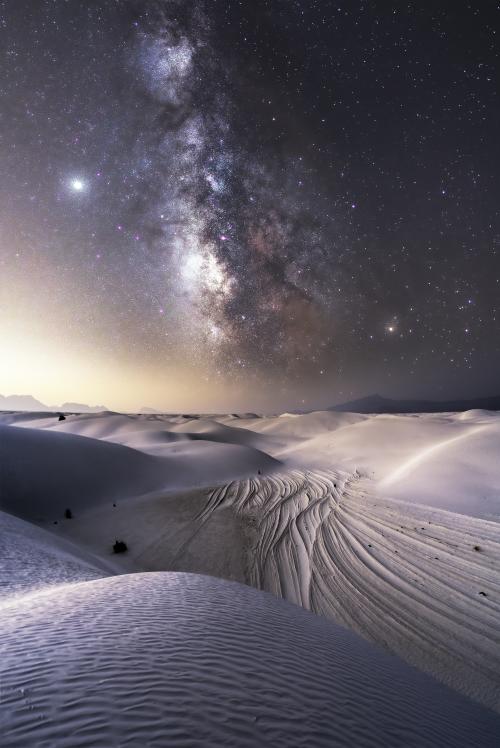 I'll also always remember backpacking overnight at White Sands. My son and several people from Organ Mountain Outfitters hiked about 10 miles into the dunes and slept beneath the stars. I'm an avid photographer and astrophotographer, so before we went to sleep, I wanted to take photos of the Milky Way. We were ready to set out on a search when I looked up and there it was, dancing over our heads.
I created Organ Mountain Outfitters to make the outdoors accessible to everyone. You don't have to be a hard-core athlete to enjoy nature. No matter your skill level, you can get out there. We do a lot of that promotion on social media—photos of people in our clothes hiking at White Sands or in the Organ Mountains. 
We want to share those outdoor experiences with friends and family, then connect with neighbors at local breweries. I love to go to Rio Grande Winery after a hike, or grab a plate of pork tacos from Ándele or the chicken enchiladas from Nellie's Café. 
I grew up really poor, with no running water or electricity. In fifth grade, I would sketch out different clothes I wished I could wear. A lot of that sat dormant for 20 years, until Organ Mountain Outfitters. We wanted to donate lunches to give back. I think that's become a point of pride in the community. I created the company logo as a unifying symbol and as an opportunity for our community to share a vision around supporting one another.