Skiing New Mexico's Hidden Gems
From beginning to oh-my-god!, these slopes have something for everyone.
Burt Skall's days on Taos Ski Valley slopes run the spectrum. On one day, the snow sports director could hit the beginner hill to teach a family from Texas—mom, dad, two kids, and grandma—who have "never even seen snow before." The next day, he might guide a first-timer up the ridge above the Kachina Peak chairlift, one of the highest in North America. He always invites guests to pause at the 12,450-foot summit to take in views of Wheeler Peak, New Mexico's tallest mountain, and the high-desert sagebrush mesas in the distance. 
"It's an all-encompassing beauty," Skall says. "You're standing in a place that most people never get to go. It's awe-inspiring." Then, he and the guests drop into a steep run with deep, fresh snow. "You know they're going to talk about the first time they got to do that for the rest of their lives," he says.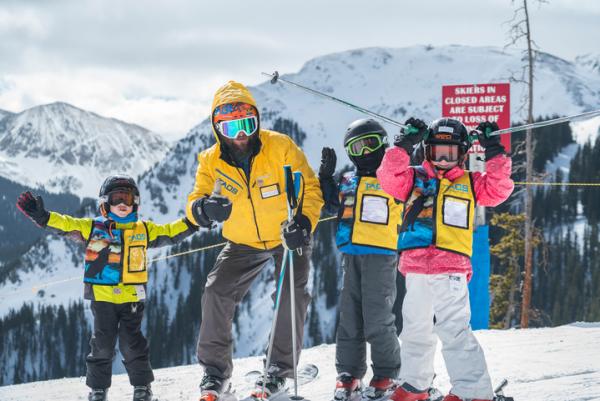 Skall has been a ski teacher since 1977, and moved to New Mexico from southern Colorado six years ago. "New Mexico skiing is a hidden secret all across the world," he says. "People don't believe we have mountains as big and rugged as Colorado." 
Skall calls New Mexico's weather hugely delightful, especially for families and beginner skiers who have high chances of a beautiful day since the state racks up more than 300 sunny days a year. "It's also a real place with no crowds," he says. "It's authentic."
Each of the eight alpine ski areas and three cross-county ski areas under the Ski New Mexico mantle have matchless personalities. Founded variously by families, members of the Army's 10th Mountain Division, and scientists from the Manhattan Project, each has inherited a distinctive vibe. 
Taos Ski Valley is known as a "skier's mountain" with world-class slopes and a solid snow sports school that appeals even to beginners. Red River Ski & Summer Area is a cowboy ski town that even hosts a Ski Ranch Rodeo where teams of skiers race the clock to rope and brand a dummy cow and saddle a "bronc." Angel Fire Ski Resort appeals to families with plenty of après activities and cross-country options at its Nordic center. 
Throwback ski area Sipapu Ski & Summer Resort feels straight out of a Hallmark Christmas movie with its small and scenic downtown. At Pajarito Mountain Ski Area, travelers might schuss with a nuclear physicist thanks to the hill's proximity to Los Alamos National Lab. Ski Santa Fe and Sandia Peak Ski Area each sit within 15-minute drives (or a tram ride!) of the state's capital and largest metropolis, respectively. Ski Apache, second to Taos in size, is the only Native American–owned ski resort in the U.S., tucked next to Ruidoso's multitude of winter activities.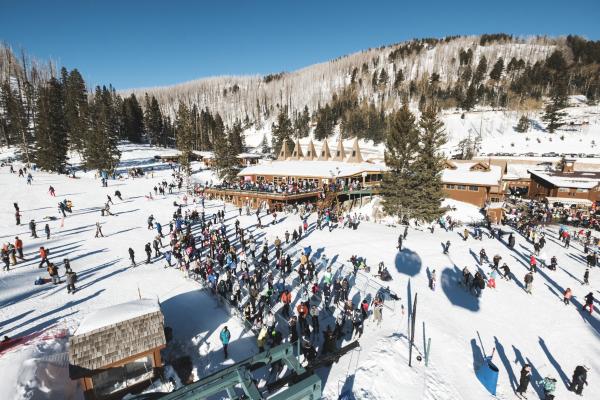 The cultures surrounding the ski areas are as distinctive as those within them. The "ski in the morning, golf in the afternoon" dream of many holds true for most of the ski areas in New Mexico. Or you can tack on other unique activities. At Taos Ski Valley, for example, after you rip your share of black diamonds, you can explore a millennia-old culture at Taos Pueblo or marvel at Spanish colonial folk art at the Harwood Museum. 
"You also learn to love green chile really quickly," Skall laughs as he recalls his discovery of the state's signature cuisine. "Ours is a really different experience than the cookie-cutter ski-town experience offered other places. It's a lot more real. People are more genuine and real all the way around."