Nestled between Farmington's western edge and the Navajo Nation, in Waterflow, the Hogback Trading Post dates back to 1871. In 1970, Tom Wheeler took over the business from his father and continues to feature some of the area's finest Navajo artwork, including saddles, leather goods, jewelry, baskets, pottery, sculptures, and weavings, all within a 10,000-square-foot hogan-shaped building.  
I'm a fourth-generation Navajo arts trader. Our family has been in the Farmington area since the late 1800s.  
My great-grandfather brought some of the early settlers out on a wagon train. There were 15 to 17 wagons in a train. The people walked. They didn't ever ride in the wagons unless they were sick because the wagons were packed. According to my great-grandfather's journals, each wagon carried two barrels of water. They had to abide by three criteria: The livestock—oxen, sheep, goats, mules—got water first. Then the fruit trees they carried. Then, if there was water left over, the people. In the last sentence in the last journal about the wagon train, he said they never lost a person, an animal, or a fruit tree. They were coming to an area they had barely even heard of and never seen before.  
My great grandfather started Hogback Trading against Hogback Mountain, 20 miles west of Farmington, in 1871. He had the trading post and worked as a blacksmith and wheelwright. My grandfather bought him out in 1919. My dad took over in 1950, and I bought my dad out in 1970.  
The Navajo people became everything to the traders and the traders to the Navajo. The traders supplied them with food and clothing in isolated areas. I think some things in the trading business have stayed the same, and some things have changed. Trading posts were an outlet for Native American arts and culture. They still are today. A lot of old-time trading posts are no longer in existence.  
Today, Hogback Trading is half a mile down the road from the original location. It's a 10,000-square-foot, two-story trading post built in the style of a Navajo hogan, a traditional dwelling. 
Navajo people have always held tightly to their culture and tradition. We offer items such as baskets, buckskins, pottery, and corn pollen, that they use in their ceremonies for healing, blessings, and protection. In 2020 and 2021, there have been more Navajo people coming in for ceremonial items than I can ever remember before because of the pandemic.  
For visitors, we offer primarily Navajo handmade rugs, pottery, baskets, and artwork. I'm very strict on only buying things that are authentic. We take a great deal of pleasure and time in educating visitors about authentic items and genuine materials, such as sterling silver and natural turquoise, and in the culture and tradition behind Navajo arts and crafts. For example, to the Navajo, turquoise is a symbol of prosperity, good luck, and friendship.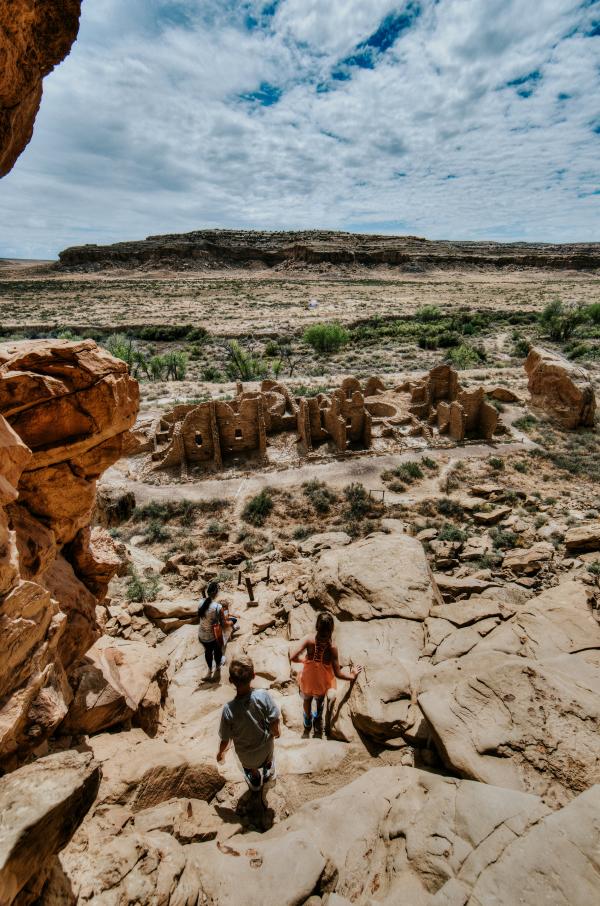 When it comes to Navajo and Native America culture, the Farmington area is just awesome. We have several ruins, like Aztec Ruins National Monument and Salmon Ruins to learn about the ancient peoples in this area. We are also a gateway to the incredible landscapes of the Four Corners region and the Navajo Nation, from Mesa Verde National Park to Canyon de Chelly National Monument. It's a land of total diversification. Almost regardless of what your interests are or your age, you can find it in the Four Corners.