In Española, history makes itself known in the land, food, art … and the rev of a lowrider engine.
As the executive director of the Northern New Mexico Regional Art Center, Gabriela Silva spends her days in the heart of historic Española. With an office on the Plaza de Española, Silva, her staff, and a group of volunteers coordinate cultural events for the city and operate an art gallery, gift shop, visitor's center, and the Española Community Arts Education Center.
"Everybody sort of knows Española as the Lowrider Capital of the World, but there's so much more to learn and see," says Silva, an artist who moved her family from El Paso in 2006 to sell her paintings, frescoes and rosaries made with the flowers she grows in her garden. "It's a beautiful place with some of the nicest people whose stories go back hundreds of years."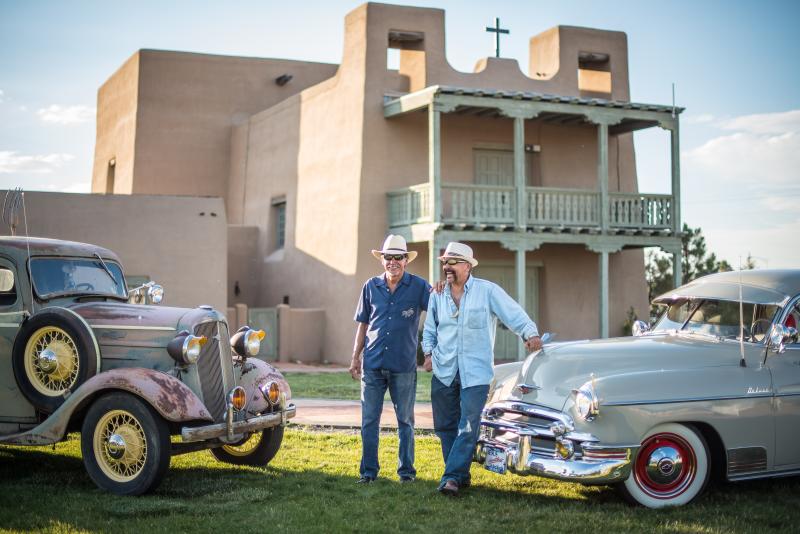 Considered the first European capital of New Mexico and less than an hour north of Santa Fe, the City of Española celebrates the blending of Native, Spanish, and American cultures in the verdant Río Grande Valley. On Sundays from mid-June through October, the Española Farmers Market showcases the area's rich agricultural bounty and its fantastic car culture. (Don't miss the free chile roasting on Labor Day and horno-baked goodies year-round.)
Visitors can immerse themselves in Native and Spanish weaving and other fiber arts techniques (both traditional and modern) at the New Mexico Fiber Arts Center. The Española Healing Foods Oasis project, run by nonprofit Tewa Women United, uses ancient dryland farming techniques to grow food and medicinal herbs on a formerly barren downtown slope.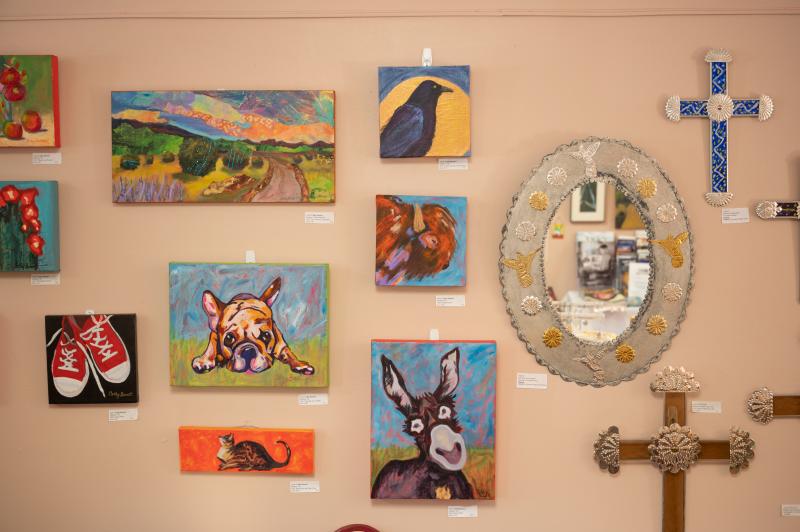 Visitors are often surprised that the Plaza de Española offers an easy primer on the area's history. Anchoring the Plaza's northeast corner, the Misión Museum y Convento faithfully replicates the original mission church built by the Spanish at the nearby San Gabriel settlement in 1598. Local master artisans chronicled both the ancient and modern evolution of the Española Valley through carved wooden architecture and traditional Spanish Colonial tinwork, colcha embroidery, and paintings. "The convento represents the history of all the northern New Mexico peoples," Silva says. "There are deep cultural traditions here that bind us all."
These traditions include service to country, as evidenced by the Veterans' Memorial Wall, reflecting pool, and walk of honor lined with more than 100 rose bushes. Agriculture is a key component of life in the valley, with small family farms, fruit orchards, and produce stands dotting the byways. Local eateries like El Paragua and La Cocina New Mexican Restaurant are always full of locals and visitors alike sharing food and community.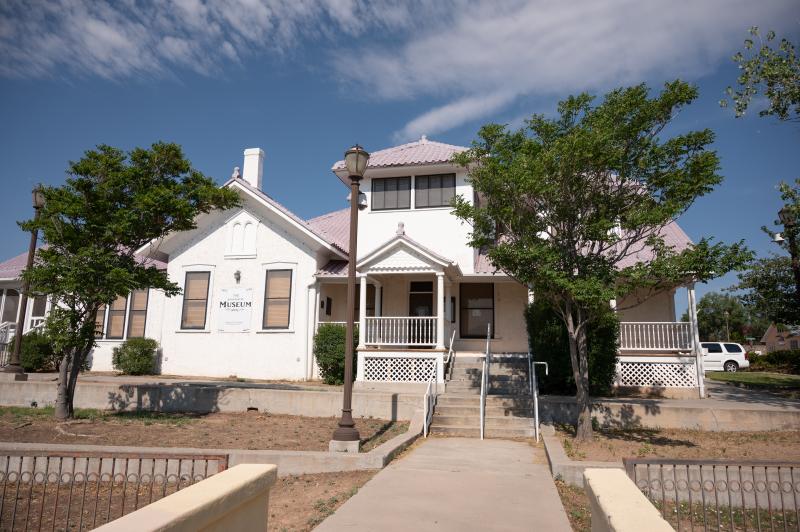 Across Plaza de Española to the west, the residence of sheep merchant and businessman Frank Bond now serves as Española's history museum. Considered among the largest adobe homes in northern New Mexico, the Bond House features historic photographs, artifacts, local artworks, and at least one ghost—the spirit of the "Lavender Kid," a would-be burglar whose signature scent is said to linger where he died in a failed break-in attempt. (Tours are available for groups of five or more, but reservations must be made in advance.)
Nearby, Blue Heron Brewing Co. and Ken'z Cuisine combine for craft brews and great pizzas, steaks, and Italian favorites.
For outdoor enthusiasts, the Mesa Prieto Petroglyph Project offers tours of more than 55,000 rock carvings made by early Puebloan people a few miles northwest of town on the Wells Petroglyph Preserve. The Puye Cliff Dwellings to the west are an awe-inspiring step back into ancient history and a year-round opportunity to marvel at the earth and sky. Now a National Historic Landmark, this long-ago home to the ancestors of today's Santa Clara Pueblo people can be seen by foot or car, making it the perfect cultural stop for all ages and abilities. River rafting, kayaking, and fly-fishing are also close by on the Río Grande and Río Chama. Skiing, whether on Pajarito Mountain Ski Area's family-friendly slopes or Taos Ski Valley's expert terrain, makes winter a nearby pleasure.
"Our proximity to the river, the local pueblos, the mountains, Ghost Ranch, and Abiquiú make us a great place to stop for a meal that features local ingredients," Silva says. "And you cannot beat the scenery. Northern New Mexico has such a diversity of landscape during all four seasons. That's why Española should be on anyone's list of places to visit."