A Q&A With 'Chopped' Contestant David Ruiz
---
What Is Unique About Native American Cuisine?
It's rich in tradition. There's a history with almost everything, from the fry bread to the stews. It takes a long time to develop flavors, it feeds off the land and really embodies the farm-to-table approach. New Mexican and Native American cross a lot. I think about how we can look at these cuisines in a different way. How do we pay homage and push it to a new level? I attempt to bring both styles together and elevate them.
Is Native American Cuisine Becoming Popular?
Yeah, we're starting to see a foodie crowd. Native American cuisine is the first cuisine of America. It was here first, and it's here to stay. It's going to be the next big trend, and only a couple of chefs in the country are doing it. People were initially a bit skeptical of Ethiopian and Vietnamese food, but now are embracing those cuisines.
---
How Do You Develop New Dishes for Your Menu?
I've immersed myself in the Indian Pueblo Cultural Center's archives, and I go to the feast days and observe different styles to modernize old techniques and medicines for new Native American cuisine. For example, chokecherries grow all over the state. They're used as snuff and to cure stomach ailments. We started making jam out of them, and used them for our homemade barbecue sauce. Sumac was traditionally used for headaches, but we steep the berries and make a drink, sauces, and purees to smoke fish.
---
What Are Some of Your Favorite Dishes?
The Tewa taco is our version of the Indian frybread taco. Fry bread is a Native American staple. We top ours with pueblo beans, local ground beef, red or green chile, lettuce, cheese, diced tomatoes, and onion. We've won best fry-bread taco for the past 11 years. We also make Kool-aid pickles. At Cochiti Pueblo, the kids were running around with red hands and mouths. They take Kool-Aid powder and mix it with pickles for an incredible flavor. We thought they'd be even better fried in fresh blue corn. We're modernizing things native to the pueblos.
Chef David's Tewa Taco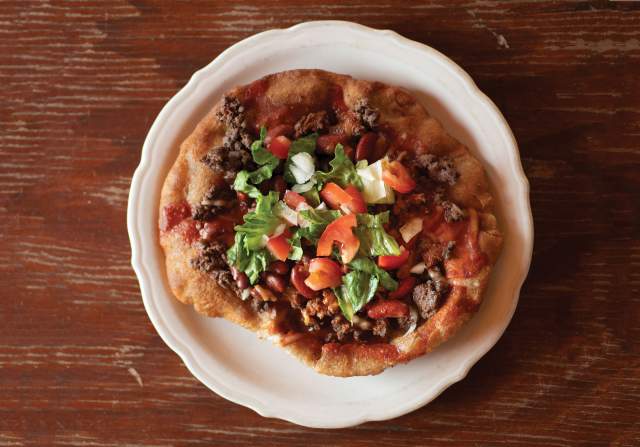 Ingredients
4 cups fine-milled flour
1 tablespoon kosher salt
1 tablespoon baking powder
1/4 cup lard
2 cups water
Additional lard for deep-frying
Toppings
pounds of ground beef
2 yellow onions, diced
3 cups stewed tomatoes
4 cups finely shredded cheddar-jack cheese
3 cups shredded romaine lettuce
1 1/2 cups fresh tomato, diced
Green chile and/or red chile sauce
Directions
To make the fry bread, combine the flour, salt, and baking powder in a stand mixer with a dough hook.
Add the lard and mix for 2 minutes on medium. Add the water and continue mixing until the dough is combined.
Form the dough into 6 separate balls, then let them sit in a warm place for an hour.
While the dough is sitting, sauté the ground beef, half of the chopped yellow onion, and the stewed tomatoes until the meat is cooked through.
Roll or hand-form each dough ball into a flat circle about 10 inches in diameter. To deep-fry the dough, heat a pot of lard to its smoking point. Drop each piece of dough into the lard, one at a time, and fry for about 4 seconds on each side, turning the dough at least 4 times in total, until the bread is fried a golden brown.
Layer toppings on fry bread to taste: cooked ground beef, romaine, the remaining diced onion, shredded cheese, diced tomato, and/or warmed chile sauce.
For more authentic New Mexican recipes, go to newmexico.org/recipes