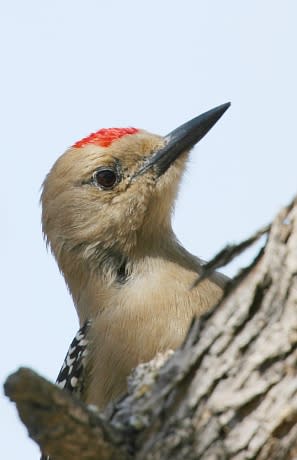 Located northwest of Silver City, the Gila River Bird Habitat Management Unit, a special unit of the Gila National Forest, offers great birding in the cottonwoods and willows along the River. This is a very special place where spring migrations and the combination of riparian habitat and desert hills bring a great variety of birds together. Over 200 documented bird species use this extensive riparian ecosystem. Common Black-hawks patrol the Gila River or perch high in treetops. The flash of Yellow Warblers, Cardinals, and Vermillion Flycatchers draw your eye like magnets. Towhees and thrashers rustle in the thickets, and Black Phoebes and Phainopeplas have their favorite, conspicuous perches. Look for the Gila Woodpecker, Montezuma Quail, Tanagers, Bell's Vireo and Lucy's and Olive Warblers. There are so many species here that you can spend many days birding in the cool shade of the cottonwoods on the banks of the Gila River.
Just a half hour drive north of Silver City, in the Gila National Forest, the fluting melody of the Hermit Thrush mingles with distinctive calls of Painted Redstarts and Red-faced Warblers. The mix of oak and pine are a favorite place for Acorn Woodpeckers and the Bridled Titmouse. You'll also find Tanagers and a variety of Warblers.
Spring migrations begin in late April but birding can be rewarding throughout the year. Over 339 species have been seen in Grant County. You'll find intriguing desert canyons, cool riparian habitat, Pinon/Juniper woodlands, and Ponderosa and Spruce/Fir forests. We invite you come see our special birds.
FOR MORE INFORMATION VISIT THESE WEBSITES
The "Birds of the Gila National Forest Checklist" and maps are available at the Silver City Visitor Center, the Gila National Forest Supervisors office, district ranger stations, and the Gila Cliff Dwellings National Monument.
Sierra County is one of the finest birding regions in the nation in terms of habitat diversity and potential for rarities. The riparian habitat along the Rio Grande and its associated lakes is a paradise of egrets, herons, pelicans, grebes, and unusual avian sightings, and all three of Sierra County's state parks (Percha Dam, Caballo and Elephant Butte) were recently designated by the Audubon Society as important birding areas.