Locals are working hard to create a thriving arts scene in Alamogordo.
While many people know Alamogordo as a gateway to White Sands National Park and its white gypsum dunes, the Otero County town has been quietly making a name for itself with a growing number of arts and culture offerings. 
"We started the portfolio with 30 artists," says Chris Edwards, who co-owns Roadrunner Emporium with his partner, Rene Sepulveda. "Now, we're going to have about 140 by the end of July."
In 2020, Edwards and Sepulveda expanded the gallery and created an artist-centered approach to the business. Built in 1901, the building that houses the emporium was the original First National Bank of Alamogordo. "The bank was really the center point for New York Avenue commerce and culture," Edwards says. "It operated until 1928, [then] went bankrupt during the Great Depression."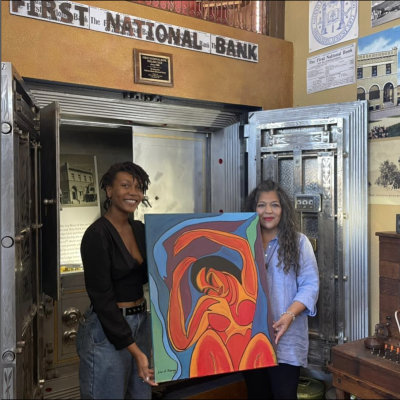 Roadrunner Emporium has helped support the city's vibrant artistic community by throwing events and partnering with a number of local organizations, like Otero Arts, located in the historic Women's Club on Indiana Avenue, with the shared goal of promoting Alamogordo's artists.
 Edwards points to retired social worker and textile artist Linda Swenson as just one of many talented artisans in the area. "Last year, at 80 years old, she hosted her first fashion show," he says, noting that she spins her own yarn and incorporates fabrics from around the world. "She had about 20 fashionistas walk down the runway with her clothing items."
 Spread out over three floors and 5,700 square feet of space, Roadrunner Emporium features paintings, glassware, textile art, and more from local artists in Otero County. "I think Alamogordo has artists that can compete with artists anywhere," Edwards says. 
 With Roadrunner Emporium and The Flickinger Center for Performing Arts as anchors, New York Avenue has become an artistic hub in the city. As the town's historic cultural center, the 800 and 900 blocks of New York Avenue are set to be updated with new benches, lampposts, sidewalks, and more, under the direction of Alamogordo MainStreet, a nonprofit that received a $1.9 million grant from the New Mexico Economic Development Department to modernize the district. 
Updating these blocks gives visitors yet another reason to spend some time browsing Alamogordo shops like the Local Bodega, at 906 N New York Ave., offering a variety of locally sourced gifts and products like fresh produce, jams, jellies, baked goods, candles, jewelry, soap, décor, and clothing. Plus, Edwards says, an independent bookstore and gallery is set to open in September. And not far away, at 1209 New York Ave., Edwards is working to open Studio Q, a new gallery for local talent.
Originally a 1950s movie house, the renovated Flickinger hosts live music and performances, as well as the Summer Tailgate Series (July 2 and 16) in the parking lot of the New Mexico Museum of Space History, which overlooks the Tularosa Basin. 
 "There's so much to do," says Alamogordo resident and artist Lydia Aspen. "Going out to White Sands National Park, driving out to the historic mine in Orogrande, the Trinity Site, Cloudcroft, Carlsbad, Ruidoso Downs Racetrack, the Sunspot observatories—this is intense observatory country."
Hungry travelers should head to D.H. Lescombes Winery & Bistro for good food, wine from local vineyards, and live music. Lowe's Signature Market features a store, deli, and bar, so patrons can sit and have a glass of wine or beer with their meal. And Just Pho You, a newer restaurant, has plenty of fresh, healthy options for lunch and dinner. 
 Summertime in Alamogordo creates a lively downtown scene with live music, art shows, and events throughout the season. If you're planning a trip to White Sands, build in an extra day to see the exciting arts and culture that's blossoming in Alamogordo.