Jemez Springs
Hiking through Jemez Springs you will find yourself immersed in wildlife amongst views that appear to be naturally staged for photography.  Amongst the views, you will find natural hot springs with over 17 healing minerals in the water.  As you walk through a dozen trails you may also encounter archaeological sites that date back as far as 2,500 BC.  
Petroglyph National Monument
Featuring astounding designs and symbols from Native Americans and Spanish settlers dating back 400 to 700 years ago.  Recreational adventures, experts, novices, families with young children or elders, will all find a trail that expresses the cultural significance of one of the largest petroglyph sites in North America.
Los Lunas Decalogue Stone
Mystery seekers can travel to the Los Lunas Decalogue Stone, also known as Commandments Rock, to investigate an inscription believed to be an abbreviated version of the Ten Commandments written in Hebrew on an 80-ton boulder of volcanic basalt. A permit is required in-order to visit this site.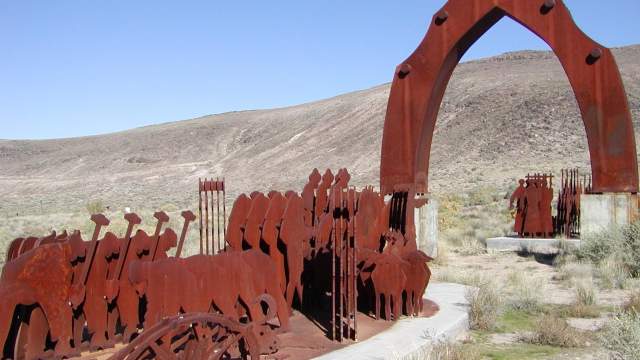 El Cerro de Tomé
Lovers of history will find New Mexico's volcanic past throughout El Cerro de Tomé along El Camino Real de Adentro. Petroglyphs from 3000 BC through the 17th century tell a story of Native cultures, Spanish colonists, and Christian settlers.  They tell the story of how El Cerro de Tomé has now become a widely hiked religious epicenter during Easter and Good Friday.
Running Wild
Throughout central New Mexico, recreational adventurers will find unique challenges amongst New Mexican landscapes.  Duke City Marathon in Albuquerque, the La Luz Trail Run in Sandia Ranger District, and the King of the Hill run at El Cerro de Los Lunas Preserve, all offer runs through historic sites, New Mexico Wilderness, and one of a kind undeveloped and multi-type surface trails.
Thrill Seekers
Are you seeking a more adventurous experience?  Duke City BMX offers the largest covered BMX facility in the country and hosts state, national and world champion BMX events and riders.  BUT, you do not have to be a professional to experience the rush.  Visit them for a clinic, to practice, or just to observe.  Are you more inclined to take to the skies? Skydive New Mexico can accommodate you year-round.  Get a thrilling birds-eye view of the beautiful Middle Rio Grande Valley in spring, summer, fall, and winter!
The Corrales Road Scenic Byway
For the more relaxed explorer, central New Mexico offers miles and miles of bird watching sites, learning opportunities, and beautiful night skies. The Corrales Road Scenic Byway includes 400 acres of Bosque views along ten miles of the river that provide habitat for over 180 species of migrating and nesting birds.
Wildlife Conservation
The Rio Grande Nature Center State Park offers visitors indoor and outdoor wildlife viewing areas overlooking ponds.  Junior rangers can learn about and explore wildlife in their natural habitat at Whitfield Wildlife Conservation Area. 
Rio Grande Nature Center State Park
Routes Bicycle Tour
Want to experience the Rio Grande River and the Bosque wildlife on two wheels? Join a 6-8 mile leisurely Routes Bicycle Tour along Albuquerque's scenic river trail enjoyable for the whole family.
Hunting & Fishing
And of course, we cannot forget the vast opportunities for hunting and fishing that central New Mexico offers.  You will find ample areas throughout the region to drop a line and enjoy the relatively mild weather perfect for fishing.  Enjoy a day trip to Tingley Beach, Sandia Lakes Recreation Area, or Isleta Lakes & RV Park or plan a camping adventure to the Sandia Mountains, Manzano Mountains, Cochiti Lake and the Ojito Wilderness.
Salinas Pueblos National Monument
It does not matter what your outdoor preference is, any New Mexican will tell you that you cannot leave New Mexico without enjoying an evening of contemplating the night skies. Salinas Pueblos National Monument offers three sites that not only offer a glimpse into the cultural bonding, conflict, and inner workings of the Spanish and Pueblo People's early encounters, it also offers incredible night sky experiences.  Situated amongst miles of uninterrupted views, the ruins offer the perfect location for astronomy lovers.  Park Rangers provide various nights with lectures and astronomy sessions for explorers of all ages. 
Whether you are a recreational adventurer, bird watcher, exploring junior ranger, or lover of natural beauty, central New Mexico has an experience you will remember.