Today Deming is the only major stop on Interstate 10 between Lordsburg and Las Cruces. A thriving business and agricultural community, Deming is home to a Border Patrol training center, and several movies – Indiana Jones and the Kingdom of the Crystal Skull and Gas Food Lodging – were filmed in the area. Border Foods' world's largest chile processing plant is at home here.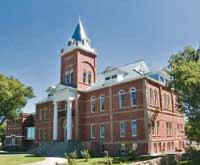 A hub for tourism, Deming is a starting point for self-guided tours of southern New Mexico including the Florida Mountains and Rockhound State Park. Vacationers enjoy a variety of outdoor activities including rock hounding, camping and hiking. The three-day Rockhound Roundup in March brings aficionados from around the world. Deming is home to one of the finest museums in the region, the Mimbres Museum and Custom House, offering a glimpse of early Western history and culture. 

Luna County has some of the best solar values resulting in the first wind project in the southwestern part of the state to start in February 2011. There are three potential solar projects coming to the county in addition to news of a solar field being developed. Luna County is moving forward and being supportive of green energy to our area.

With an excellent climate, pure water and friendly people, the area is attracting retirees, snowbirds and young families looking for a small city and a southwestern lifestyle.