New Mexico's Iconic Chile Guest Stars in Global Cuisine
New Mexicans know a thing or two about chile. Our official state question "red or green?" is usually answered "Christmas!": a combination of red and green, fiery and milder, chiles. Green chile is a staple in many New Mexican dishes, but chefs across the Land of Enchantment have found creative ways to infuse the beloved local crop into other global cuisines.
From Irish pub fare in Farmington to pasta in Truth or Consequences, in New Mexico you can treat yourself to your favorite cuisines with a side of chile! Here are a few offerings from chefs across the state.
In the restaurant world, "new" and "hot" always grabs attention. But it's the older places that…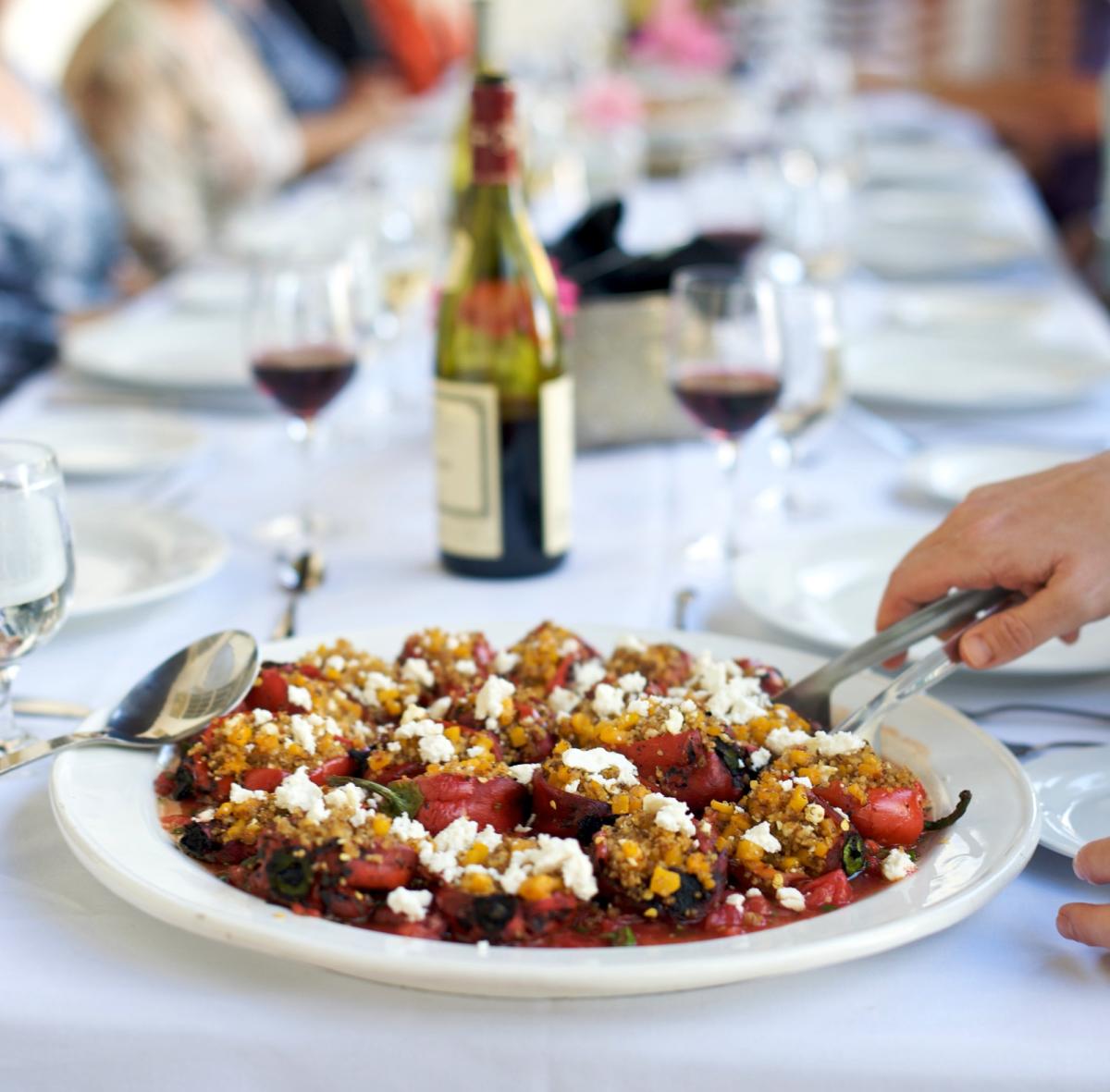 Photo Credit: Sergio Salvador
Albuquerque  
Pars Cuisine in Albuquerque has been offering authentic Persian cuisine since 1984. Accompany your kabob, shank, or stew with a side of green chile and discover the tasty intersection of Middle East and Southwest.  
With its own sizable farm and a seasonally driven menu influenced by both haute cuisine and foods indigenous to the Rio Grande River Valley, Campo at Los Poblanos isn't your typical New Mexican fare. In addition to showcasing a variety of local growers and producers, like Shepherd's Lamb from northern New Mexico, naturally, local green chile appears in daily specials and regular dishes. And with a menu that rotates seasonally, Campo is continuously finding creative ways to include green chile into their offerings.  
Carlsbad 
Inside the historic Trinity Hotel Restaurant, don't be surprised to find a local green chile twist to their traditional American and Italian fare. Enjoy your ribeye topped with onions, cheese, and green chile or a local favorite, fettuccini alfredo spiced up with Hatch green chile.  
Farmington 
If you wander into Clancy's Pub, an Irish cantina, looking for an Irish stew and a pint, you might be a wee bit surprised to discover the New Mexico green chile on your plate alongside the pork and potatoes. (This Irish cantina also has a sushi bar, but that's another story.) It's all part of the eclectic culinary experience at Clancy's, where you'll find more than a wee bit o' the green (chile, that is) in all kinds of delicious dishes.  
Gallup 
At Fratelli's Pizza Bistro & Ice Creamery's, Italian cuisine and frozen delights provide a welcome stop for Interstate 40 travelers. Their New Mexico Roadrunner pizza with pepperoni, sausage, and green chile is the perfect entrée to the Land of Enchantment.  
For a trip back to the glory days of the "Mother Road," as locals call the old Route 66, check out the historical charm of the Badlands Grill. Start with the Poppers, an Anaheim green chile stuffed with spicy, green chile cream cheese mix and wrapped in applewood smoked bacon; and then dig into the Chicken Cordon Gallup, an 8 oz seared chicken breast topped with green chile, mozzarella, and cheddar cheese. 
Hatch 
Hatch is where the bulk of the state's green chiles are grown, so you would be hard-pressed to find a restaurant here that doesn't feature them. But for a change of pace from New Mexico-style cuisine, follow the smoke to Sparky's — and if that fails you, just look for the 10-ft A&W Root Beer Mama on the roof. This is serious, wood-fired barbeque featuring burgers and pulled pork topped with green chile. 
Santa Fe 
Santa Fe encompasses an entire globe of dining options, and New Mexico chile has sprouted up in almost all of them.  
Enjoy a warm, intimate dining experience at El Nido, where you'll find an open view of the live fire cooking station and a well-stocked bar with a robust wine list, craft beer, and a surprising selection of saké. Start with their oysters baked with green chile and breadcrumbs before digging into their Three Pepper Rib Eye with a green chile demi-glacé or their Wild Salmon that comes with a red chile pineapple sauce.  
Got a hankerin' for some BBQ? Head to Cowgirls, where they have been serving up barbecue and comfort food in Santa Fe since 1993. Get your mesquite-smoked briskets, baby back ribs, pulled pork, and more with a side of local red or green chile to give your BBQ a Southwest kick!  
Pie Town 
Who first figured out that green chile belonged in that quintessential American dessert: apple pie? We aren't sure, but we agree it is a match made in heaven. You can find the combination all around the state during the September green chile harvest, but you might want to make a foodie pilgrimage to Pie Town, where they take pie making seriously. Step on up to the Pie Bar at the Pie-O-Neer for a slice of New Mexico Apple with green chile and piñon. 
Silver City 
Once an old mining town, Silver City is now home to a thriving, diverse restaurant community, including Diane's Restaurant where you'll find green chile sprinkled through the menu – from burgers and quiches to steaks and pastas. And if you're feeling a sweet treat with a Southwest twist, head to The Ice Cream Emporium for a scoop of their Hatch Chile Vanilla.  
Arroyo Seco 
Aceq Restaurant in nearby Arroyo Seco, just up the road from Taos, serves up mouthwatering dishes using locally sourced, farm-fresh ingredients. Enjoy their elevated modern American cuisine with a distinctly New Mexican twist like Alaskan Cod Fish and Chips with green chile tartar or their Bison Red Chile fries. 
Truth or Consequences 
After a nice, long soak in one of T or C's hot springs, it's time to refuel! And with Hatch's famous green chile grown just 40 minutes away, don't be surprised to see it on restaurant menus across town – and the classic American cuisine at Los Arcos Steak and Seafood is no different. From their Oysters Rockefeller with a Southwestern touch of green chile to their charbroiled filets topped with green chile, Los Arcos is no stranger to incorporating New Mexico's famous crop into their cuisine.