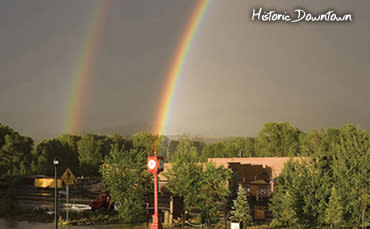 One of the best-kept secrets in New Mexico is the enchanting Village of Chama. With an elevation of 7860 feet, Chama is nestled high in the Southern Rockies, just 120 miles North of Santa Fe.
The historic Cumbres & Toltec Scenic Railroad steam trains leave the Chama depot daily from Memorial Day weekend to mid-October. Riding the railroad is a day trip of exhilarating rugged mountain views and fall colors.
Fishing local trout streams and lakes is a leisurely pleasure and for a real experience try Fly fishing the Rio Chama, which runs the east side of the Village. Hikers and mountain bikers find many trails including the Continental Divide Trail nearby. The Sargent's Wildlife Area surrounds Chama with meadows and trails for hiking and horseback riding. Hunting adventures with reliable guides are close to town.
Chama has a lively Western-style business district with lodging, RV Parks and cozy dining establishments.  Located at the junction of highway 17 and U.S. 84 (Take State Hwy 285 north from Santa Fe to Española then take the "Chama Highway" (84) north) the Village of Chama is the perfect destination for anyone seeking scenic outdoor recreation.
Crowds gather in Chama for the famous Fourth of July fireworks display. The Cumbres & Toltec Scenic Railroad offers a fireworks train in the evening. Chama Days, the second weekend of August, is always fun with a softball tournament, family Rodeo, dances and parade.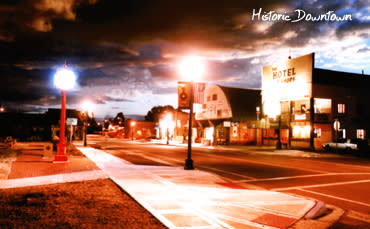 Enjoy our Chama Valley Studio Tour every Labor Day weekend and visit our local artists.
Cool times in cool pines are the epitome of summer fun in Chama's cabins and vacation ranches. Our Fall Colors are always spectacular.
Oh, yeah, and it's an absolute mecca for winter sports, Cross Country Skiing and Open space snowmobiling too!
For your safety and comfort bring a light Jacket or Sweater for those cool evening walks in the summer and fall and check with the local ranger district before heading out to hike. Never travel alone and make sure you are adequately prepared. At these altitudes, the weather can sneak up on you.
Visit These Locations & Attractions Close to Chama