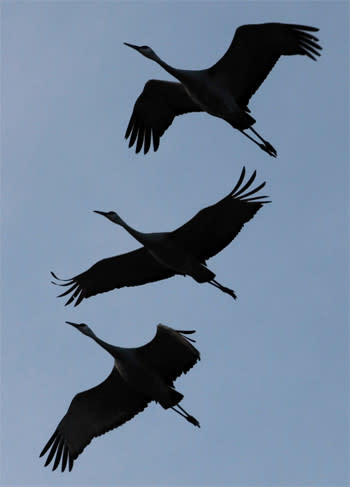 The Festival of the Cranes, taking place annually in December, offers something for everyone: from backyard birders to bird experts, from amateur photographers to pros.
Activities include refuge tours; bird, biology, geology and art workshops; keynote speakers; and much more. The Festival highlights the world-renowned Bosque del Apache National Wildlife Refuge, which has over 70 years of managing the refuge for the benefit of wildlife and their habitat.
Members of the Audubon Council of New Mexico, the Central New Mexico Audubon Society, the American Birding Association and the Friends of the Bosque Board will be on hand at the observation decks around the Bosque tour loops to assist visitors with questions and to share their birding expertise and scopes.
Lectures are offered for a variety of wildlife related subjects.  Lecture topics include photography, bird identification and wildlife painting. Workshops are conducted in the field or special facilities.
The Refuge is 57,331 acres located along the Rio Grande near Socorro, located at the northern edge of the Chihuahuan desert. The heart of the Refuge is about 12,900 acres of moist bottomlands - 3,800 acres are active floodplain of the Rio Grande and 9,100 acres are areas where water is diverted to create extensive wetlands, farmlands, and riparian forests.
FOR MORE INFORMATION PLEASE VISIT THESE LINKS
The Bosque del Apache National Wildlife Refuge, fondly known as "The Bosque," is in New Mexico near the small town of San Antonio, NM, 9 mi. south of Socorro, and less than an hour and a half from Albuquerque.
http://friendsofbosquedelapache.org/
http://www.festivalofthecranes.com/